German city installs Karl Marx traffic lights to celebrate philosopher's birthday
Comments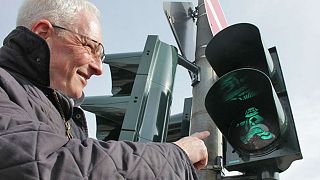 The hometown of famed German philosopher Karl Marx has installed traffic lights in his image to mark the 200th anniversary of his birth.
The mayor of the western city of Trier unveiled the lights, which show "The Communist Manifesto" author standing with his arms outstretched when they are red, and walking with a book under his arm when they go green.
"It is a beautiful symbol and with it Trier is showing its flag for Marx," Mayor Wolfram Leibe, who commissioned the installation, said in a statement on the city's website.
Marx was born in Trier on May 5, 1818, and lived there until he was 17, when he went to study at the University of Bonn.
Cartoonist Johannes Kolz designed the figures on behalf of the Municipal Press and Communications Office.
A second set of lights is set to be unveiled close to Marx's childhood home before Easter.