Which European country has the most prisoners?
Comments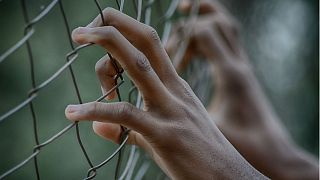 The number of people being held in penal institutions across Europe (not including Russia) increased by 2.2% from 2015 to 2016, according to data corroborated by the University of Lausanne for the Council of Europe.
The human rights organisation, which collects figures as part of two related projects known as SPACE I and II, found the number of people incarcerated in Council of Europe Member States had increased to 859,102 in 2016, that's 18,454 more inmates than the year before.
Which European country had the most prisoners?
The country which had the most prisoners in total, according to the SPACE 2016 data, was the UK (England and Wales, information for Scotland was not available and Northern Ireland was counted separately), which had a total of 84,968 prisoners.
Following behind were France (66,678), Spain (61,614), and Romania (28,334).
This being said, data for many of the countries that fell at the top of 2015's list was not available for 2016, like Poland, Ukraine and Germany.
Perhaps most notably, Turkey was also missing from the 2016 dataset, which had close to double the number of people incarcerated as in the UK in 2015 at 158,537.
The lowest countries in 2016 were unsurprisingly those with a small population, such as Liechtenstein (10) and Andorra (41).
When considering the prison population rate per 100,000 inhabitants, for which data was only available from 2015, Nordic countries including Norway (70.3), Sweden (55.4) and Finland (54.4), as well as Cyprus (62.1) all, came at the bottom of the table.
Using this measure Lithuania (295.6), Latvia (238.9), Estonia (222.4), Poland (204.9) and Turkey filled the five top places.
Overcrowding in prisons
As many as 13 prison administrations reported overcrowding in 2016, all of which had over 100 inmates per 100 places available.
FYRO Macedonia saw the worst case of this with 132 inmates per 100 places available, followed by Hungary (132), Cyprus (127), Belgium (119) and France (117).
The others included Portugal (109), Italy (109), Serbia (109), Albania (108), the Czech Republic (108), Romania (106), Turkey (103) and Finland (101).
Across Europe as a whole the median prison density in 2016 was 91.6 inmates per 100 places available.
Suicide in prisons
Suicide accounted for an average 15.6% of deaths in penal institutions; on average almost 32% of prisoners who committed suicide were in pre-trial detention.
Cost to the government
The 42 European prison administrations that provided accurate data spent a combined total of €18.8 billion in 2015.
The average amount spent on each inmate per day in 2015 was around €51, €9 (or 15%) less than in 2014.
The countries with the highest total budget spent by prison administration in 2015 were Germany (€3.0 billion), Italy (€2.8bn), the UK (€2.7bn in total), France (€2.6bn) and Spain (€1.5bn in total).
What sentences were European prisoners serving?
The biggest proportion of inmates were serving sentences for theft (18.9%), drug offences (17.5%), robbery (12.6%) and homicide (12.1%).
The average length of imprisonment in 2015 was 8.5 months.
Who is in Europe's prisons?
When looking at the median proportion of female inmates across Europe, the overall percentage was 5.3%.
The median proportion of foreign inmates was 11.6%, ranging from less than 1% in Poland to 74% in Luxembourg.