Uber self-drive car in fatal road accident
Comments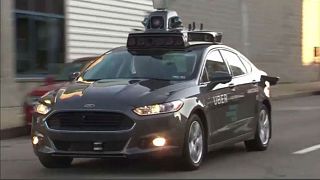 Miguel Almaguer reported for NBC News: 
"Our investigation did not show at this time there were significant signs of the vehicle slowing down."

Tempe Police Department
A 49-year-old woman is dead in Tempe, Arizona, after a self-driving Uber test-vehicle struck her as she was walking a bicycle across the street. 
It is the first fatal accident involving a self-driving test-vehicle on a public road, prompting Uber to halt all autonomous car testing in North America.
Sgt Ronald Elcock of the Tempe Police Department said: "as soon as she walked into lane of traffic she was struck by the vehicle that was traveling north bound."
Investigators say the vehicle was travelling at about 80 kilometres per hour, but showed no signs of slowing down. It was in autonomous mode with a safety driver behind the wheel.
Uber said: "our hearts go out to the victims family. We're fully cooperating with Tempe Police".
Industry observers say the accident will lead to more scrutiny of the technology, which uses sophisticated computers, lasers, radar, and camera sensors to navigate traffic.