Why the year's biggest tech conference is all about smart cars, not smartphones
Comments
By Paul A. Eisenstein with NBC News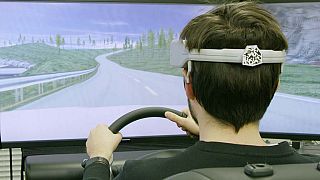 Anyone who has driven a relatively recent-vintage vehicle has probably experienced the benefits - and occasional snags - of using voice control to plug in a destination, dial a call or change the radio station. But Nissan's IMx concept vehicle aims to take things a step further. It uses brain-to-vehicle technology to respond to what the driver is thinking.
"The potential applications of the technology are incredible," helping motorists relax more while driving, while also improving vehicle safety, said Dr. Lucian Gheorghe, senior innovation researcher at the Nissan Research Center in Japan.
While you're not likely to see Nissan's B2V technology wind up in showrooms for at least five to 10 more years, the automaker plans to demonstrate its potential during the CES show in Las Vegas this week. And Nissan won't be alone. Formerly known as the Consumer Electronic Show, the annual gathering traditionally focused on gizmos and gadgets, smartphones, TVs, computers and drones. But over the last few years, it has become a showcase for the auto industry, as well.
General Motors used the January 2016 CES to unveil its Chevrolet Bolt EV, the world's first "affordably priced" long-range battery-electric vehicle. Volkswagen last year showed off an all-electric update of its classic microbus and announced plans for new mobility services like driverless ride-sharing.
The interest in CES is no surprise, considering the collective auto industry is investing an estimated $100 million on advanced technologies such as electrified drivetrains, connected cars, and autonomous vehicles over just the next five years, according to industry analysts.
At this year's conference, Renault-Nissan Alliance CEO Carlos Ghosn is expected to announce a $200 million corporate venture capital fund to help the company pair with promising start-ups that can help speed up the development of new mobile technologies.
Long gone are the days when an automobile was an essentially mechanical device. These days, "it is a computer on wheels," according to Jurgen Otto, the CEO of German auto supplier Brose Fahrzeugteile, with as many as 100 onboard microprocessors. Brose is even looking at ways to use built-in seat sensors to monitor the health of vehicle occupants.
This year's CES once again will see automakers flood the show's news conference schedule. Among the big events on the docket:
Toyota will reveal its latest self-driving research vehicle, dubbed Platform 3.0, which hints at the sort of products it might go into ride-sharing services like Uber and Lyft in a few years
Kia will reveal an all-new battery-electric vehicle also showcasing technologies like virtual and augmented reality
Mercedes-Benz, which has already replaced traditional gauges with high-definition displays covering nearly the entire instrument panel, will reveal a new AI-enhanced "user experience" at the show.
A number of automakers are expected to show how they are integrating voice-assistant services into their vehicles. Ford, for example, now lets you call up Amazon's Alexa to order a cup of java from Starbucks, as well as control home automation technology like lights and thermostats.
A number of new entrants into the automotive world are hoping to gain attention - and possibly new investments - by heading to CES. They'll show off things like next-generation LIDAR "pucks," the high-resolution, 3D laser vision technology needed to make driverless vehicles a reality.
Faraday Future, an ambitious EV manufacturer, used lavish CES parties to show off its battery-car prototypes over the last several years. The 2018 show will bring the debut of Byton, another Chinese-based EV start-up.
As a measure of how much the auto industry has come to dominate CES, Ford CEO Jim Hackett will be a keynote speaker on Tuesday. Before being named chief executive last May, he oversaw Ford's mobility services efforts, including electrified and autonomous vehicles. Hackett is expected to outline not just Ford's own push into "smart mobility," but the direction the auto industry as a whole will be taking.
In the years to come, experts predict millions of Americans, especially those in denser urban areas, could give up their private cars to turn to electrified driverless vehicles operated by companies like Uber and Lyft - (both of whom will also be at CES this year). With no reason to have hands on the wheel - indeed, with no steering wheel in those vehicles - passengers will need to work or be entertained.
Rinspeed, a Swiss automotive think tank will bring to CES a vision of what that might mean. Its Snap concept features an electrified, skateboard-style platform and interchangeable, Lego-like passenger pods that "can be anything from a variable shopping pod or a spacious camping pod to a cozy cuddling pod and even provide a breathtaking, fully connected user experience for the occupants of the passenger cabin. The sky is here the limit for the possible applications."
With autos and the automobile business expected to undergo an increasingly high-tech revolution over the next decade, it's no wonder CES has become as important to the industry as traditional auto shows were over the past century.