President Trump calls for death penalty for drug dealers
Comments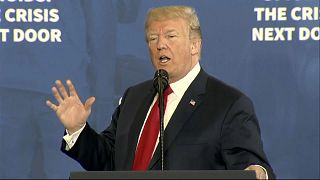 President Donald Trump has vowed to "get tough" on anyone illegally peddling drugs, including dealers, doctors, traffickers and manufacturers.
Speaking in New Hampshire - a state ravaged by addiction - Trump unveiled his plan to combat America's deadly opioid crisis.
"But if we don't get tough on the drug dealers, we're wasting our time," he said. "Just remember that - we're wasting our time. And that toughness includes the death penalty."
The plan also calls for six billion dollars in additional federal funding for prevention and education, as well as treatment and recovery programmes.
America is facing a growing epidemic. Every day, 116 people die from an opioid-related overdose.
Trump said he is considering litigation against drug companies that help fuel overprescription.
He also promised to bring down prescription drug prices, saying Americans pay far more than people in other countries.