Russia - West confrontations will 'naturally continue', political analyst says
Comments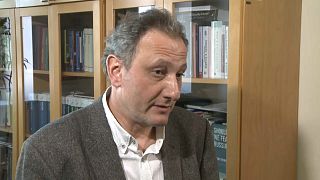 Confrontations between Russia and the West will "naturally continue" after Vladimir Putin's election victory, Russian political analyst at the Carnegie Moscow Center Andrei Kolesnikov has said.
He told euronews' Galina Polonskaya after Sunday's presidential vote that the Russian concept of being under constant attack and constantly defending itself was the basis of Putin's consolidation and had helped secure his victory.
"There is no other model of existence in Russia," he said.
Andrew Kolesnikov also touched on the poisoning of former spy Sergei Skripal and his daughter Yulia in Britain.
The case had made Russia even more toxic in the West, making it even more difficult to seek grounds for an improvement in relations, because it is difficult for the West to communicate with partners who reject all accusations, he said.
Kolesnikov said he believed this period of accusation and counter-accusation would continue for a long time - he said there was simply no serious reason for Russia to cooperate with the West.