EU and NATO back Britain over spy attack
Comments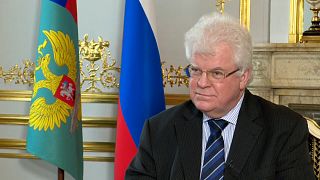 The UK has won fresh support from the EU and NATO over the poisoning on its soil of a former Russian spy.
Foreign Secretary Boris Johnson discussed the attempted murder of Sergei Skripal and his daughter Yulia at a session of EU foreign ministers in Brussels on Monday (March 19), and in a meeting with NATO Secretary-General Jens Stoltenberg
"The attack in Salisbury was the first use of a nerve agent on Alliance territory," Stoltenberg said.
"Russia's response so far has demonstrated a clear disregard for international peace and security. We continue to call on Russia to provide the complete disclosure of the Novichok program to the Organization for the Prohibition of Chemical Weapons (OPCW)."
Russia, including its president, Vladimir Putin, denies any involvement.
Johnson said he saw a "classic Russian strategy" as he arrived for the EU meeting, a day after Putin was re-elected for another six-year term as president.
"They're not fooling anybody anymore," Johnson said. "There is scarcely a country around the table here in Brussels that has not been affected in recent years by some kind of malign or disruptive Russian behaviour."
Moscow on Saturday announced the expulsion of 23 British diplomats in a tit-for-tat response to Britain's decision last week to expel the same number of Russian diplomats from London.
On Sunday, Johnson accused Russia of stockpiling the deadly Soviet-era nerve agent Novichok used to poison the Skripals, a charge Moscow denies.
The pair were found unconscious on a bench in the English city of Salisbury on March 4 and remain in a critical condition in hospital.
For his part, Russia's Ambassador to the EU Vladimir Chizhov appeared to backtrack from previous suggestions that the nerve agent used in the attack could have come from a British laboratory
"I said then when I referred to the issue that I had no evidence, I don't have it now, I don't have any evidence and my government doesn't have any evidence of any nerve agent having been used," Chizhov told Euronews' Damon Embling in an interview.
"I just mentioned the geographical proximity of the Porton Down military installation: eight miles. It's much closer than, say, Moscow," he added.