European Parliament passes resolution demanding Turkey withdraws troops from Syria
Comments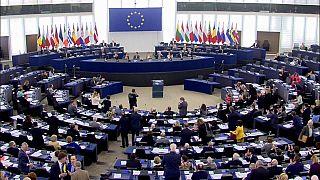 The European Parliament passed a non-binding resolution on Thursday calling on Turkey to withdraw all its troops from northern Syria.
The Turkish military invaded Syria in January to fight the Syrian Kurdish YPG militia which it's labelled a terrorist group.
Turkey responded angrily to the resolution, saying it demonstrated "clear support" for the militants.
The YPG militia has been helping the US military fight so-called Islamic state in Syria.
But Ankara says it's linked to the banned Kurdistan Workers Party, or PKK, which has been fighting for greater autonomy for Turkey's Kurds for thirty years.
Ties between Ankara and the EU have been deteriorating since a failed coup in Turkey in 2016.
The EU has infuriated President Tayyip Erdogan by criticising his purge of suspected supporters of the coup.