Venezuelans 'starving' on Colombian border
Comments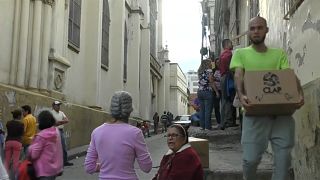 "Venezuelans are starving to death"
The number of Venezuelans crossing the Colombian border has become a daily flood. and this is triggering what the UN warns is a humanitarian crisis.
Fleeing their country hungry, many are finding Colombia is struggling to feed them all, and it needs more international help says the UN.
"I talked to person after person, from father to mother to child this morning, hearing the stories about how there is no food on the shelves. And we're talking 40 - 50,000 people crossing the border per day just in Cucuta. The Venezuelans are starving to death," says the Executive Director of the UN's World Food Programme, David Beasley.
"Returning means letting your kids die of hunger. That's why I'm here. Here I sleep on a mat on the floor. I have my fan, the few things people have given me. In Venezuela, I have my house, my mother, all of that. And one comes here to sleep on the floor for a plate of food. Because here you can find it," said one young woman on the border.
The sound of one hand clapping?
The Venezuelan government claims its so-called CLAP boxes of staples , indroduced in 2016, means no-one need go hungry but critics note distribution is tracked, and may be makng some six million people dependant.
A bag of rice on a hungry family's kitchen table could be the key to Nicolas Maduro retaining the support of poor Venezuelans in May's presidential election.
For millions of Venezuelans suffering an unprecedented economic crisis, a monthly handout of a box of heavily-subsidized basic food supplies by Maduro's unpopular government has offered a tenuous lifeline in their once-prosperous OPEC nation.
The 55-year-old successor to Hugo Chavez introduced the so-called CLAP boxes in 2016 in a signature policy of his rule, continuing the socialist government's strategy of seeking public support with cash bonuses and other giveaways.
Now, running for re-election on May 20, Maduro says the CLAPs are his "most powerful weapon" to combat an "economic war" being waged by Washington, which brands him a "dictator" and has imposed sanctions.
Belkis Morillo, a saleswoman, says she depends on the boxes but wish it weren't so.
"The reality is that, for me, there's no benefit (to the food box). I wish they would put the product in the supermarket and I could buy it every time I had the money and could buy it, so I could buy it when I'm hungry and I need to buy food because these days, we have gone through much hardship to eat," she said.
Breakfast of presidents
Stamped with the faces of Maduro and Chavez, the CLAP boxes usually contain rice, pasta, grains, cooking oil, powdered milk, canned tuna and other basic goods. Recipients pay 25,000 bolivars per box, or about $0.12 at the black market rate. Venezuelans purchase them with government-issued Homeland Cards, that keep track of who has bought the boxes.
That is a godsend in a country where the minimum monthly wage is less than $2 at that rate - and would be swallowed up by two boxes of eggs or a small tin of powdered milk.
Inflation, at more than 4,000 percent annually according to opposition data, is pulverizing household income.
Maduro's rule since 2013 has coincided with a deep recession caused by a plunge in global oil prices and failed state-led economic policies. Yet the worse the economy gets, the more dependent some poor Venezuelans become on the state.
Life in the South American country's poor 'barrios' revolves around the CLAP boxes. According to the government, six million families receive the benefit, from a population of around 30 million people.
Venezuelans, many of whom are undernourished, anxiously wait for their monthly delivery, and a thriving black market has sprung up to sell CLAP products.
Critics, including Maduro's main challenger for the May 20 vote, Henri Falcon, say the CLAPs are a cynical form of political patronage and are rife with corruption.
Political analyst Oscar Ramirez said the food boxes are an economic necessity for many people.
The weaponisation of food?
"They broke many Venezuelans' stomachs. They broke their will. They may not have broken their political convictions, but we could be in the transition to break the political will so that someone who defines themselves as an opponent ends up voting for the government because they need to eat," he said.
The government sources almost all the CLAP goods from abroad, especially from Mexico, since Venezuela's food production has shrivelled and currency controls restrict private imports.
The administration of the CLAP - the Local Supply and Production Committees - does not hide its political motivation.
"If it weren't for the revolution with the creation of the CLAPs (food boxes), what would become of peoples' lives? If we hadn't created the Homeland Card, the QR (Quick Response Code) and the bonuses that I will begin to apply starting today, starting now, starting this January-- what would be of our people?" Maduro said at a recent rally.
Sometimes, though, the tactic backfires, as it did when promised free pork failed to arrive over Christmas, prompting street protests.
Erratic supply and control of distribution by government-affiliated groups have sown resentment among others.
Maduro's inability to halt rising hunger has jarred with the experience of many under Chavez, who won the presidency in 1998 and improved Venezuela's social indicators with oil-fuelled welfare policies.
Juan Luis Hernandez, a food specialist at the Central University of Venezuela, estimates the country generates just 44 percent of the basic food supplies it produced in 2008.
Meanwhile, food imports fell 67 percent between the start of 2016 and the end of 2017 as the crisis bit, he said.
Tightening belts, frightening prospects
Almost two-thirds of Venezuelans surveyed in a university study published in February said they had lost on average 11 kilograms (24 lbs) in body weight last year. Eighty-seven percent were assessed to live in poverty.
The same study found that seven out of 10 Venezuelans had received CLAPs.
Some Venezuelans fear they would be found out should they vote against Maduro and be punished by no longer receiving food bags.
Already handouts are far from guaranteed.
A dozen recipients told Reuters that often they arrived half-full and would only come every few months. Outside of the capital Caracas, delivery was even more sporadic.
Ramirez said the country's economic situation has caused voters to be dependant on the government for their most basic need.
"You managed to subdue the majority of the people who depend on you to be able to eat. Today, for 4 million Venezuelans, their only source of food is the CLAP box; and for 8 million (people), the CLAP box is an important complement. We are talking about 12 million people. We are talking about that variable of control in which I the government control the food, I am exercising it and I have not yet said, "You want to eat now? Well, now you must vote for me and you have to use the Homeland Card," he said.
Even though Maduro's approval rating is only around 26 percent, according to one recent poll, his re-election looks likely as Venezuela's opposition coalition is boycotting the vote on accusations it is rigged.
His most popular rivals are banned from standing and the election board favours the government.
Former state governor Falcon has broken with the coalition to stand. One survey by pollster Datanalisis in February showed that in a two-way race, he would defeat Maduro by 45.8 percent to 32.2 percent of likely voters.
Falcon's critics counter that those numbers mean nothing in the face of electoral irregularities that could arbitrarily tip the balance in favour of Maduro.
Several other minor figures have registered for the single-round election, but have little chance of making an impact.