No more conditions imposed on North Korea for the moment
Comments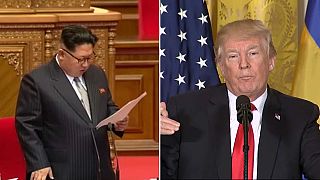 The White House says there'll be no more conditions imposed on North Korea ahead of the first-ever meeting of the two nations' leaders in May.
Remaining conditions are, not to resume nuclear testing, missile flights or publicly criticise the next U.S and South Korean military exercises.
Security Officials say, this meeting is a real achievement.
CIA Director Mike Pompeo says "Never before have we had the North Koreans in a position where their economy was at such risk and where their leadership was under such pressure that they would begin conversations on the terms that Kim Jong Un has conceded to.."
Meanwhile, relationships have warmed between North Korea and South Korea ever since the Winter Olympics last month.
It's after an invitation was handed to a South Korean official there which was then conveyed to President Trump.
White House officials say the meeting will give them a chance to cut a deal over the North's nuclear programme.