Novichok: What we know about the Russian nerve agent used in spy attack
Comments
By Sallyann Nicholls, NBC News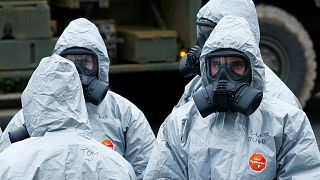 British Prime Minister Theresa May has confirmed the nerve agent Novichok was used in the attempted assassination of Russian ex-spy Sergei Skripal and his daughter. 
Dr Michelle Carlin, senior lecturer in forensic and analytical chemistry at Northumbria University, explains what we know so far about Novichok, which means "newcomer" in Russian. 
What is this class of nerve agent?
Novichok agents are fourth generation nerve agents and are thought to be far more potent than the V-series agents, for example VX. It is believed that Novichok agents are used in the form of an ultra-fine powder, unlike other known nerve agents which are found as a liquid or vapour.
What is the mechanism of action?
These Novichok agents are thought to consist of two separate non-toxic components that when mixed, form a nerve agent. The mechanism of action is very similar to that of other known nerve agents; however, these agents are thought to be much more toxic than the V-series agents. The nerves in our body send chemical signals to the organs and tissues but nerve agent disrupts this signalling resulting in an overload of signals. This overload of signals results in loss of control of muscles. This can lead to breathing difficulties, loss of control of bodily functions, increased salivation, convulsions, paralysis and may lead to death.
What does this tell us that we didn't know before?
The exact science and mode of action of Novichok agents is not fully understood at this point as these are the "newest" class of nerve agents. They are also thought to be far more toxic than the nerve agents previously suspected in this case.
How could it affect the public?
The greatest effect would be to the individuals who were administered the largest dose or the longest exposure. This will have very little effect on the general public but precautionary decontamination measures have been advised by the Chief Medical Officer, for anyone who was in areas visited by Mr Skripal and his daughter in Salisbury on the Sunday afternoon.
What would be the outlook be for anyone affected?
Little is known of the long-term effects of these Novichok agents, however, it is believed that these agents may cause more permanent injury in someone exposed to them, following antidote treatment, than other nerve agent series.