Sensational World Surf League debut for Colapinto
Comments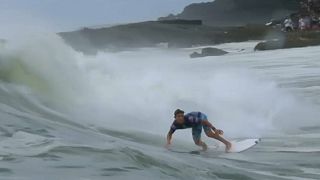 -
19-year-old Griffin Colapinto has made a sensational debut to his World Surf League career - defeating fellow American and World Number 1 John John Florence on the Australian Gold Coast.
In doing so he put an end to Florence's run of 12 straight first round wins - a record that dates back to 2016.
Overcast skies, difficult undercurrents and waves of a metre and a half gave the surfers a set of challenging conditions to master.
Australia's Mick Fanning will be retiring soon and showed all his experience to defeat Brazilian rookie Jessie Mendes.
And in the women's event, Macy Calllaghan of Australia caused a big upset by defeating her compatriot, six times WSL champion Stephanie Gilmore.