Former Prosecutor General denounces "more than 8000 executions" in criminal case against Venezuela regime
Comments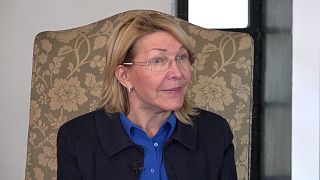 The former Prosecutor General of Venezuela, Luisa Ortega, was dismissed from office last year after she denounced constitutional reforms promoted by President Nicolas Maduro as a breach of democracy.
It's very good that the European Union has imposed sanctions.

Former Prosecutor General
She lives now in exile in Colombia, where she is gathering evidence with a view to mounting an international criminal action against Hugo Chavez's successor.
Euronews correspondent Héctor Estepa met up with her to talk about the case.
Euronews: "Ms Ortega. You have denounced President Nicolas Maduro and other Venezuelan ministers before the International Criminal Court, which has launched a preliminary investigation. What are the violations of Human Rights that you denounce in your presentation to the tribunal in The Hague?"
Ortega: "The execution, the murder, of more than 8.000 Venezuelans in 2015, 2016 and 2017. Furthermore, I want the court to denounce the crimes of torture, forceful entry without a mandate, military judicial processes for civilians, arbitrary detentions, mass forced entry, all of which are ruled out by the Rome Statute."
Euronews: "If these Human Rights violations that you present in your complaint began in 2015, why didn't you denounce them before? "
Ortega: "I have been denouncing all these events since 2015. In the proofs that I present, I explain the mechanisms of The Rondon Plan… a plan designed by the Ministry of Defense to control domestic security. Although in Venezuela domestic security has to be controlled by civilian authorities, through a judicial instrument from the Ministry of Defense they gave that authority to the army. During 2015 I also demonstrated when the first domestic security order – called the OLP – came into force. I rejected that mechanism to control domestic security."
Euronews: "Ms Ortega, Presidential Elections in Venezuela will take place late May. What do you think about the opposition Democratic Unity Roundtable not standing in the elections? "
Ortega: "I am a democrat and I believe in electoral processes, and I think that we have to vote. But in this process we cannot vote. We cannot vote because there are no guarantees. There is no transparency. People are not going to participate in the elections in conditions of equality."
Euronews: "Ms Ortega, the European Union has imposed sanctions on Nicolas Maduro and other members of the Venezuelan Government. What do you think of these sanctions?"
Ortega: "I absolutely agree. It's very good that they were imposed. And they should take other actions as well. I think that the other action the European Community should take should be to seize property of Venezuelans that has been illegally obtained. There are Venezuelans that have property overseas that has been legally and honorably obtained. But those that cannot justify it, who have been public servants and have sumptuous fortunes and property, should be expelled, as should the sons of ministers. The same goes for some Venezuelan diplomats who are in different countries. A lot of them weren't even ratified by the National Assembly, which is the body that ratifies the appointment of ambassadors. They are occupying their posts illegally. So I think the European Community and other countries could take some action in this regard."