US Navy's show of strength in Pacific with F-35 deployment
Comments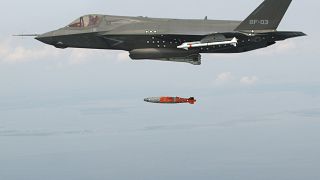 The US has launched a major challenge to China and North Korea with a first deployment in the Pacific Ocean of an aircraft carrier with F-35B jets.
The assault ship, USS Wasp, has been specially modified to take the US Marine Corps' Fighter Attack Squadron 121. The F-35 is capable of short take-offs and vertical landing variants, and is equipped with air-to-air and air-to-ground combat weapons.
US pilots are scheduled to carry out a series of flights over several days, after which the F-35s and more than 2,000 US Marines will deploy aboard ships for operations in the Indo-Pacific region as part of what the military describes as a routine patrol to strengthen regional alliances and provide rapid-response capability.
"This is a historic development," said Colonel Tye R. Wallace in a US Navy news statement. "The F-35B is the most capable aircraft ever to support a Marine rifleman on the ground."
The fighter jet's development programme hit a series of delays but the US has still pulled ahead of its rivals such as China and Russia. The plane is capable of precision strikes, can penetrate enemy airspaces and guide destroyers to fire missiles to targets ashore.
China has been asserting its influence in the South China Sea by building up military facilities on artificial islands and conducting fighter jet drills in the region. However, it has struggled to field its own jets that could be seen as a match for the US F-35s.
North Korea – not a major air power – is also expected to have difficulty tracking the new jets now deployed in its zone.
The USS Wasp is currently conducting patrols in the East China Sea after leaving a base in Japan.