'Ethnic cleansing' of Rohingya continues says UN envoy
Comments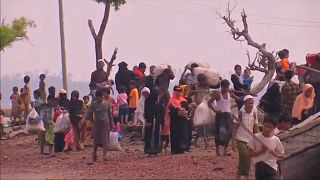 Copyright

"UN Human Rights"
Myanmar' is pursuing its "ethnic cleansing" of Rohingya Muslims, a senior United Nations official has said.
Andrew Gilmour, the U.N. assistant secretary-general for human rights, has just visited the Cox's Bazar district in neighbouring Bangladesh.
On hearing the harrowing accounts of those who have recently arrived there, he says they still face a campaign of terror and forced starvation on the other side of the border.
"What is going on at the moment,  not only are there still killings, are there still rapes on a large scale, not only are they driving people out with force and threats but also there is - it seems - an almost systematic attempt to destroy their future livelihoods," he said.
Buddhist-majority Myanmar says its security crackdown has been targeting violent Rohingya militants.
"I do not buy for one moment, the narrative that some of those who were responsible for the ethnic cleansing have been putting out, that these are a radical population," Gilmour said.
"But it is like a self-fulfilling prophecy; if they are driven into conditions that are so bad and deprived of all hope, then surely they will become radicalised."
Myanmar denies ethnic cleansing, saying it will take refugees back. But villages are flattened and grave risks remain.
with Reuters