Syria: 'Families flee' as pro-Assad forces advance in Eastern Ghouta
Comments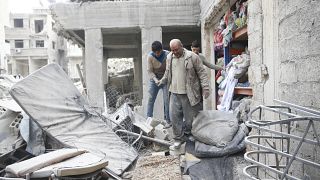 Amid the daily onslaught, hundreds of civilians are reportedly fleeing for their lives within Eastern Ghouta.
They are said to have sought shelter in the heart of the rebel stronghold, away from areas where Syrian government fighters have seized ground, recapturing up to 10 percent of the enclave.
The Syrian Observatory for Human Rights, a UK-based organisation which reports on the war, estimates that between 300 to 400 families have fled.
It says government bombardment is centred on the town of Mesraba.
The United Nations says that since February 18 nearly 600 people have been killed in air and ground strikes on the enclave near Damascus and more than 2,000 injured.
In a statement, it says violence has escalated despite a UN ceasefire call a week ago and the bombing of the enclave represents a "simply unacceptable" punishment of civilians.
President Bashar al-Assad's Russian allies have called for daily, five-hour humanitarian ceasefires, but these have brought little respite.
A UN official in Syria told Reuters a humanitarian convoy carrying life-saving supplies from UN and other aid agencies would not enter eastern Ghouta as had been planned on Sunday, citing a lack of permission.
Western diplomats said the Syrian government had not given the final clearances needed for safe access.
The convoy of some 40 trucks had been due to go to Douma in the government-besieged enclave where some 400,000 people need food, medical and other supplies, the UN says. Only one small convoy with supplies for 7,200 people has been allowed into Ghouta so far this year, in mid-February.
with Reuters