Syrian Army advances in eastern Ghouta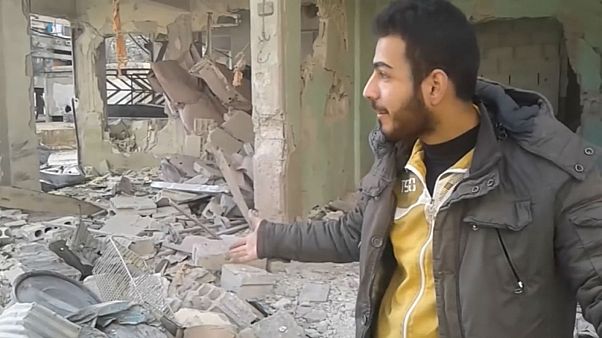 Syrian government forces aim to advance into the region of eastern Ghouta "one bite at a time", according to a pro-government commander.
Goverment forces, including the elite Tiger Force, have been attacking rebels in the Maraj area of Ghouta for several days.
They have taken control of some villages in the area of Maraj and have made "notable" advances on the western edge of the rebel enclave at Harasta, the spokesman said.
"What is happening at present is biting and taking some villages from the eastern side," the commander told the Reuters agency.
Have the groups monitoring the conflict said anything?
Yes. That army has seized new ground from rebels, including a group of buildings in the area.
On Friday, the UK-based Syrian Observatory for Human Rights said government forces had captured two villages - Hawsh al-Dawahra and Hawsh Zreika - in addition to terrain and farmland.
The Observatory says the government bombardment of Ghouta has killed 617 people since February the 18th. Intensified rebel shelling of government-held areas of Damascus has killed 27.
Has there been any comment from the rebel forces?
Sources could not be immediately reached for comment on Friday.
A spokesman for Jaish al-Islam, one of the main Ghouta rebel groups, said on Thursday government forces had tried to divert their attention by opening a new front in the Hazema area while also waging battles in nearby Hawsh al-Dawahra.
Artillery fire had been used to disable two tanks.
What is happening in eastern Ghouta?
It is one of the deadliest offensives of the seven-year war. Government air strikes and bombardment have killed hundreds of people over 12 days in the area. Made up of beseiged towns and farms, it is the last major rebel-controlled area near the capital.
What is the international community doing?
US President Donald Trump spoke to the leaders of France and Germany on Friday.
France said President Emmanuel Macron and Trump agreed to work together to implement a UN-backed ceasefire that has failed to stop the onslaught. France also called on Russia to get Damascus to abide by it.
In a statement, the Elysee Palace said they spoke by telephone about opening access to humanitarian aid in eastern Ghouta and evacuating the wounded.
The two leaders agreed that Russia needed to "unambiguously exert maximum pressure on the regime in Damascus" for it to abide by the ceasefire.
Macron also said France would have a "firm response" if it transpired chemical weapons led to civilian deaths in Syria.
Damascus has consistently denied using chemical weapons. Western states have accused it of doing so.
What about the truce?
The UN Security Council has called for a 30-day countrywide truce.
Russia, which backs the Syrian government in the war, has instead called for daily humanitarian ceasefires from 9am to 2pm local time.
In the US, the State Department has dismissed Russia's humanitarian ceasefire plan as "a joke", saying people are afraid to leave the earea through a "humanitarian corridor" due to fear of conscription, exile or death.
A human rights warning
In an emergency meeting of the UN's Human Rights Council on Friday, the High Commissioner for Human Rights, Zeid bin Ra'ad al-Hussein said events in eastern Ghouta likely included "war crimes and potentially crimes against humanity":
"Syria must be referred to the International Criminal Court. Attempts to thwart justice and shield these criminals are disgraceful," he continued.
The context
The war has escalated on several fronts this year. The collapse of ISIL has given way to other conflicts between Syria and international parties.
One of them is Turkey, which says eight more of its soldiers have been killed fighting Kurdish militias in the Afrin area of northwestern Syria.