No second term in office for Puigdemont
Comments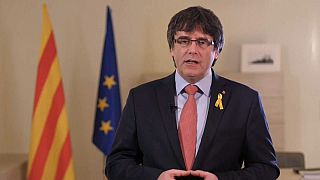 In a blow to Catalonia's bid for independence, former leader Carles Puigdemont has pulled back from a bid for a second term in office.
He said his withdrawal was the only way to get a new government underway.
Puigdemont faces charges of sedition and rebellion in Spain and is currently in self-imposed exile in Brussels.
He said his party would propose a pro-secession campaigner, Jordi Sanchez - currently in remand in a Madrid prison on charges of sedition - as an alternative candidate.
The announcement came just hours after three pro-independence parties in the Catalan parliament approved a motion recognising the legitimacy of Puigdemont's candidacy.
It also reaffirmed the validity of a banned October 1st referendum on independence in a tense first session of parliament since elections in December.
The nomination of Sanchez is likely to be just as fraught with difficulty given he is in detention.