How migration influences voters in Italy's general election
Comments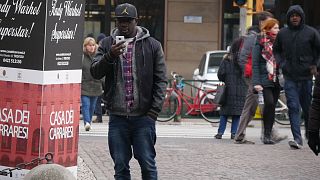 Euronews went to the Italian region of Veneto, where programs for integration and social inclusion for migrants have been set up, but also where where hostility and xenophobia are on the rise.
The region is no stranger to foreigners and long-term migration.
A former mayor, Ciancarlo Gentilini, removed the benches from the streets when he was in officer to prevent their use by migrants.
Today he is no longer a mayor, but he is still around to voice his opinions.
"They filled the streets and houses with immigrants, have a look: crime is everywhere, violence, sexual aggression…"
His colorful narration still seduces many Venetians, but like many other clichés, it does not stand the test of facts. We went to find out more from Professor Marzio Barbagli, a sociologist at the University of Bologna.
"No, crime figures are not growing," said Barbagli.
"The migrant issue emerges every so often… It hasn't been spoken about for months. During three years of Renzi's government nobody took care of it before interior minister Marco Minniti came into office."
Euronews asked the professor how important he thought this issue will be for Italian voters despite the alarmist rhetoric.
"I guess not as important as political parties believe… The few people who have already decided to vote have chosen who to vote for… It needs to create a political passion within the militants; a passion that otherwise doesn't exist actually…"
Back in Treviso, despite a visible hostility to foreigners, there is an economy that needs them.
Figures from many sectors — from construction to hospitality — suggest the absence of migrants would affect the economic fabric.
"The economy would suffer, not just because Italians no longer work certain jobs, but also because the skills migrants bring enrich the country," said restaurant owner, Nicola Filippini, who pointed out he has a chef from Togo.
There are few receptions facilities in Treviso to deal with the constantly rising number of asylum seekers.
The volunteer networks are often the only contact for the thousands of people — mostly African — rescued from Lampedusa.
The associations organize Italian courses, and artistic and musical workshops, with the aim of promoting social inclusion by offering training opportunities.