Slovak Minister Marek Madaric quits following murder of Jan Kuciak
Comments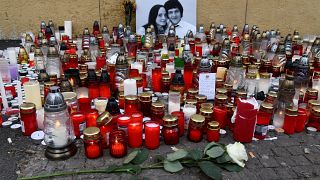 The Slovak Culture Minister Marek Madaric, resigned on Wednesday after the murder of an investigative reporter that has shocked the country.
Marek Madaric said the resignation was his personal decision, and not influenced by anyone else.
He said as the culture minister he could not accept the fact, that a journalist was killed during his tenure.
Jan Kuciak, 27, reported on crimes by businessmen some of whom had connections with politicians.
He and his girlfriend were found shot dead at the weekend.
Several newspapers in Slovakia have printed Kuciak's last article, which links the Italian mafia to high-level political corruption. It centres on Maria Toroskova, a senior advisor to Prime Minister Robert Fico.
To add fuel to the conspiracy a fire broke out on Tuesday at the main tax office in kosice.
Kuciak was said to be looking at suspicions tax and EU-funding fraud involving local businessmen and Calabrian gangsters.
Prime minister Feetso has offered a one million euro ($1.2m) reward for anyone who comes forward with information about the murder of and has agreed to meet media outlets to assure them that freedom of speech and the safety of journalists was paramount.