Federer wins Laureus Sportsman of the Year award
Comments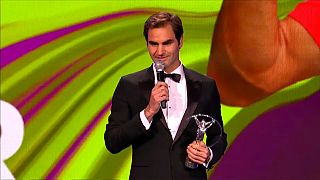 Twenty-time tennis grand slam champion Roger Federer has won the 2017 Laureus World Sportsman of the Year and Comeback of the Year awards.
Serena Williams took the World Sportswoman of the Year award after winning her 23rd grand slam in 2017.
Formula 1 constructors' champions Mercedes picked up the Team of the Year accolade, and wheelchair athlete Marcel Hug won Sportsperson of the Year with a Disability.
Also at the ceremony in Monaco, golfer Sergio Garcia secured the Breakthrough prize following his Masters success, while recently-retired Roma forward Francesco Totti clinched the Laureus Academy Exceptional Achievement award.