Over 5,000 civilian deaths unaccounted for in US-led strikes in Iraq, Syria: monitor
Comments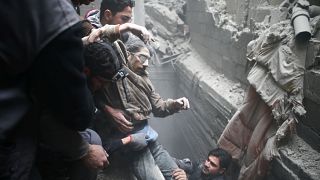 More than seven times as many civilians have been killed by the US-led coalition in Iraq and Syria than official numbers suggest, according to recent data from a leading monitor.
The US-led Coalition, composed of an alliance of western and regional powers, launched a campaign of airstrikes in Iraq and Syria in 2014 to "degrade and destroy" the so-called Islamic State. Seventy-four nations are in the coalition, including the UK, France, Germany and the Netherlands, as well as the Gulf states.
Its mission, Operation Inherent Resolve, has also seen it target Syrian military positions, with the alliance acknowledging earlier this month that a retaliatory airstrike on forces loyal to President Bashar al-Assad had killed about 100 people.
But civilians have also been caught in the strikes.
From the start of the intervention in August 2014 until mid-February this year, the coalition has killed between at least 6,137 and 9,444 civilians, according to Airwars, a UK-based monitoring group of experienced investigative journalists and researchers.
Hundreds of those were children, its figures show.
The numbers are in stark contrast to Operation Inherent Resolve's own data, with its latest report, released on Friday, confirming at least 841 "unintentional" civilian deaths over the course of the campaign. This toll records 10 more confirmed civilian fatalities than announced in the coalition's previous report at the end of January.
The coalition says it has conducted 29,070 strikes between August 2014 and January 2018. There were some 287 strikes conducted in January alone, according to official figures.
Airwars collects its data by correlating local and social media reports and footage, international press, NGO statements, and statements from militant and terrorist groups, to assess the validity of the reports.
By tracking if and when coalition strikes took place on areas of reported civilian casualities, it determines whether these air raids were likely responsible for the deaths.
Casualty counts categorised as "confirmed" and "fair" - when there are two or more credible, non-contested claims and the coalition admits to bombing nearby - are used to make the minimum estimated civial death toll.
Chris Woods, the investigative journalist heading the project, told Euronews he believed the discrepancy was not explained by the way Airwars gathers the data, but "by the way the Coalition doesn't gather data."
"One significant reason for the gulf in numbers is that half of all allegations… have yet to be assessed by the coalition," he said.
Woods said another reason for discrepancies in the data was the coalition's "conservative" approach to conceding civilian harm.
The Coalition generally only acknowledges incidents when it has directly observed harm, meaning that deaths caused by buildings collapsing around or on top of people are generally not investigated, he explained.
When contacted by Euronews, the Coalition dismissed the claims, saying it conducts a detailed assessment of "each and every allegation of possible civilian casualties."
"We hold ourselves accountable with an open and transparent process to assess allegations of civilian casualties, and we publish these findings on a regular basis for the world to see," a spokesperson said.
The Coalition said it uses drone video footage, pilot interviews and other sources of information to corroborate the number of civilian casualties.
It said its estimates are also based on assessments of classified and unclassified intelligence reports, which it argued, "in some cases, can be even more accurate than witness interviews."
"Our goal has always been for zero civilian casualties, but the Coalition will not abandon our commitment to our partners because of ISIS's inhuman tactics of terrorizing civilians, using human shields, and fighting from protected sites such as schools, hospitals, religious sites and civilian neighborhoods," it said.
Arshin Adib-Moghaddam, a professor in international studies at London's SOAS University, specialises in relations between the West and the Muslim world. He says official figures "will always be lower than those given by independent observers" and the coalition "will try to downplay any casualties that our armies are responsible for."
According to Adib-Moghaddam the western military operation in Syria and Iraq "exacerbated an already chaotic situation." In his view, the defeat of Islamic State was not primarily the result of any US-led operation.
"Today, it is Russia which is the most decisive external actor and it is Iran that heavily influences the regional equation. ISIS was defeated primarily by the actions of the Iranians, their allies, Russia's air-power and the National Syrian Army. In the process more people suffered. The horror in Syria was largely due to competing agendas and their concomitant alliances," he said.