Watch again: Corbyn wants new post-Brexit customs union with EU
Comments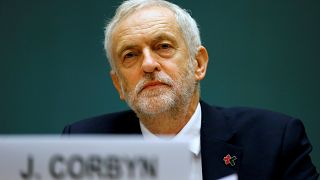 British opposition leader Jeremy Corbyn says he wants to negotiate a new post-Brexit customs union with the European Union.
He made the demand in a speech in Coventry, England, on Monday morning. You can watch it in the video player, below.
Corbyn's move that could lead to a major parliamentary defeat for Prime Minister Theresa May.
It comes as May tries to strike a divorce deal with the European Union by October.
But she is facing a rebellion by a small group of pro-Europeans inside her Conservative Party that Labour Party head Corbyn hopes to use to undermine her authority.
May has ruled out any customs union with the EU after Brexit because it would prevent Britain from striking new trade deals with fast-growing economies including as China and India.
Labour's Brexit policy chief Keir Starmer said on Sunday his party has agreed that if it wins power it would negotiate to remain permanently in a new customs union with the bloc.