Church leaders close Jerusalem's Holy Sepulchre church to protest new tax policies
Comments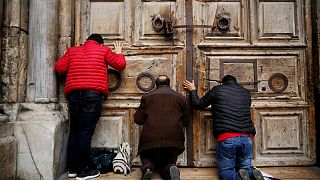 Copyright

REUTERS/Amir Cohen
Church leaders in Jerusalem have shut down the Church of the Holy Sepulchre in protest of new tax measures and a proposed land expropriation law, which they called a "systematic and unprecedented attack against Christians in the Holy Land".
The church, a popular pilgrimage site, is believed to be the site where Jesus was crucified and buried.
Roman Catholic, Greek Orthodox, and Armenian church leaders confirmed the church would remain closed until further notice.
An Israeli cabinet committee will also consider a bill that would allow the state to expropriate land in Jerusalem sold by churches to private real estate firms in recent years.
Church leaders said such a law would make it harder for them to find buyers for their land.
"This bill would make the expropriation of the lands of churches possible," said a statement by Theophilos III, the Patriarch of Jerusalem, Francesco Patton, the Custos of the Holy Land, and Nourhan Manougian, the Armenian Patriarch of Jerusalem.
Church leaders also said the measures seemed to be an "attempt to weaken the Christian presence in Jerusalem".
Jerusalem's municipality already cancelled a tax exemption granted to church-owned commercial properties in the city and has begun to demand back payments from the churches.
Jerusalem Mayor Nir Barkat said on Twitter that the tax did not include places of worship and that it was "illogical" to expect church-owned commercial property to keep on being tax-exempt.