Former Yugoslav Republic of Macedonia renames airport
Comments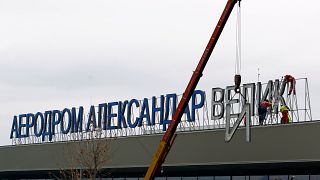 Authorities from the former Yugoslav republic of Macedonia on Saturday began removing the sign on its main airport terminal building near Skopje,
The airport was named after Alexander the Great by the previous government,
But in a goodwill gesture toward neighbours Greece, the airport will simply be named Skopje International Airport.
The two countries have been at odds for a quarter-century over the name Macedonia, but are intensifying negotiations to resolve the issue.
Workers also removed a motorway sign saying - "Alexander the Great".
Greece argues the name implies territorial claims on its own province of Macedonia and is angered by what it sees as snatching of ancient Greek history.