"Spectacular" judo on Day 2 of Düsseldorf Grand Slam
Comments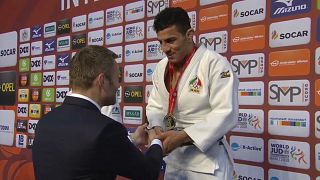 Day two of the 2018 Düsseldorf Judo Grand slam was welcomed by a packed ISS dome, full of fans awaiting the return of our man of the day, Japan's Shohei Ono.
His judo makes him one of the sport's most popular athletes and he did not disappoint during his elimination bouts, throwing big with two near identical osoto gari ippons.
Rustam Orujov of Azerbaijan would await him in a rematch of the Olympic final in Rio De Janeiro; the result would be the same; an ippon win for Ono. It topped off a fantastic day for him which saw him once again topping a world judo tour podium for the first time in two years.
"While I've been away from the mat studying Judo I began to think about Judo from a different perspective," he said.
"There is an athlete's perspective, but you can also study Judo from a technical perspective. It's been very important for me to start looking at Judo from both perspectives. So I've realised that through my studies I could improve myself as an Athlete."
Day 2 results from the Düsseldorf Grand Slam!

? https://t.co/7tGlwVzMRw#JudoDüsseldorf2018 ?? pic.twitter.com/0K9nwyM7I7

— Int. Judo Federation (@IntJudoFed) February 24, 2018
Slovenia's Andreja Leski was our woman of the day, she upset the odds by defeating Japan's Tsugane Megumi in the final, scoring a waza ari and holding out for the win. It was her first World Judo tour gold medal and a great day for Leski.
She told reporters: "It was amazing. These are new feelings for me and also the best result in my career. I convinced myself that this will be my day and it happened to really be my day."
IJF Vice President Mr Sergey Soloveychik awarded the under 70 kilogramme gold medal to Japan's Yoko Ono.
"Spectacular"
The under 81 kilogramme final produced a wonderful moment for Saeid Mollaei of Iran after he threw for ippon against Alpha Oumar Djalo of France. A spectacular way for Mollaei to win his first Grand slam gold, having previously taken Bronze and silver in the past.
He was awarded his medal by Germany's 2008 Olympic champion in the same weight category, Mr Ole Bischof.
It was the German crowd which produced our moments of the day. Having been denied a medal by a superb ippon from Sanne Van Dijke of the Netherlands against their fighter Marlene Galandi, they were then rewarded for their patience by Dominic Ressel, who took under 81 kilogramme bronze in sensational fashion. He threw Matthias Casse of Belgium with an incredible uchimata for a brilliant ippon win.
An amazing moment as the audio levels inside the arena went through the roof.
But even when there was no home interest, the crowd appreciated good judo. And in the under 73 kilogramme bronze medal match between Ferdinand Karapetian of Armenia and Mongolia's Odbayar Ganbaatar they were on the edge of their seats after an enthralling contests with both Judoka giving it their all for more than 9 minutes.
Although either judoka had their chances there had to be a winner and after Karapetian scored ippon the fans showed their appreciation for a truly captivating contest.
It was our moment of special day of judo in Dusseldorf.