Turkey warns of 'grave consequences' in Afrin
Comments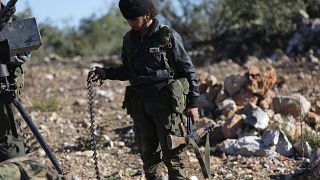 A spokesman for Turkey's president has warned of grave consequences after pro-Syrian government forces moved into Afrin in the north of Syria. They are attempting to repel Turkish forces carrying out an offensive against the Syrian YPG militia in the Kurdish enclave.
Ankara claims it is a terrorist group and an extension of the Turkish PKK Kurdistan Workers Party, which has fought for Kurdish autonomy in south-eastern Turkey for decades.
İbrahim Kalın told the media:
"Any step by the regime - or other elements - in this direction will surely have serious consequences. Because we carry out the Olive Branch Operation under the framework of Turkey's rights based on international law. Any steps to support PKK in Afrin will be counted as a terrorist act and those taking them will be a legitimate target."
Ankara claims its troops and Syrian rebel allies have now pushed back the Syrian pro-government forces. These claims have been denied by the YPG and forces loyal to Syrian President Bashar al-Assad.
Turkey is now deploying special police forces across the border, which are said to be specialised in street to street combat.