Syria: Over 90 people killed outside Damascus
Comments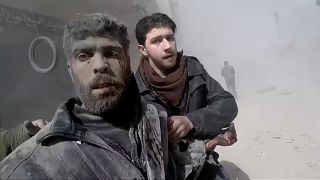 Copyright

The White Helmets
Bombardments by the Syrian regime and its allies are said to have killed more than 90 people since Sunday in a rebel-held area outside Damascus.
War monitoring group The Syrian Observatory for Human Rights says 20 children are among the dead in Eastern Ghouta, a pocket of towns and farms under government siege since 2013.
Hundreds are reported injured in the air strikes thought to be preparing the way for a ground offensive.
But Sergei Lavrov, the foreign minister of Syria's ally Russia, blamed what he called "armed provocations" by Nusra militants, formerly linked to al Qaeda, for current conditions in eastern Ghouta.
The United Nations says nearly 400,000 people live in what is the last remaining opposition held enclave near the Syrian capital and that the humanitarian situation of civilians there is "spiraling out of control."