Abortions on the decline in Europe
Comments
By Mariane Lacombe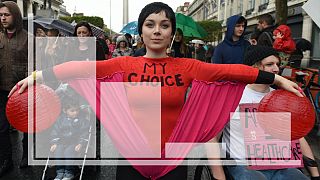 Women in Luxembourg, Hungary and the UK are the most likely in the European Union to have an abortion, according to data analysed by Euronews.
The results are based on figures from Eurostat concerning the number of abortions in each country compared with the number of women of childbearing age.
According to Eurostat, women who have abortions are generally aged between 20 and 24, with the exception of Hungary where abortions are mainly performed on patients aged 15 to 19.
Access to some forms of contraception, including the morning-after pill, requires a medical prescription in Hungary, where the conservative government has emphasised the importance of family-building as a key part of its agenda.
Across Europe, deficiencies in sex education are often cited as a key factor driving abortion prevalence.
Lack of information
Under 20s account for between 10% and 15% of women who have had abortions in one-third of EU countries, according to the WHO.
In the UK, a lack of knowledge about contraception and how to use it is linked to teenage pregnancies, according to the British Family Planning Association.
Awareness in schools is also a determining factor.
NGO Médecins du Monde has expressed concerns about the Spanish government which it says needs to improve education about abortion.
"The implementation of the National Strategy for Sexual and Reproductive Health is almost zero in terms of health and sex education, since there is no budget allocated", the NGO explained in a 2016 report.
France's High Council for Equality between Women and Men has said that sex education in the country remains "fragmented."
The Council of Europe has said sex education is an important social issue to be boosted in the coming years.
A general downward trend
More than half of the EU's member states are experiencing a gradual decline in abortions.
In Eastern Europe, this reduction is more extreme: Slovakia and Estonia have seen the amount of abortions cut by around half over the last 10 years.
Among the region's more conservative countries, this decline is also seen, such as in Portugal, where abortion was decriminalized in 2007, and Spain where numbers of terminations have declined after a boom in the mid-2000s.
In the case of the UK and France, which have the most abortions in absolute terms, figures have remained relatively stable.
However some countries have seen rises. Poland is facing an increase in requests for abortion despite having some of the strictest legislation in the EU and government campaigns encouraging citizens to have more children.
In 10 years, the number of terminations there has increased from 225 cases in 2005 to 1,044 in 2015.
In Luxembourg, 651 women had abortions in 2015 compared to 148 in 2008.
This overall increase is also observed in Sweden and in Belgium to a lesser degree.