Meet the Irish expats pledging to return for abortion referendum in #HomeToVote campaign
Comments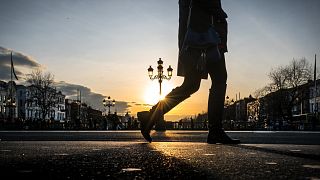 Irish people living around the world have pledged to return home to vote in favour of ending the country's near-total ban on abortion in a historic referendum in May.
Irish living as far away as the US and Qatar took to social media on Wednesday to share their plans under the hashtag #HomeToVote, a campaign launched by the London-Irish Abortion Rights Campaign.
The referendum on whether to repeal a constitutional amendment from 1983 that effectively bans terminations does not allow postal votes from abroad, and requires voters who do want to return to have been living outside of Ireland for less than 18 months.
"Thousands of Irish people live and work in countries all around the world yet are excluded from voting in this upcoming referendum due to Ireland having incredibly restrictive voting rights for its citizens abroad," London-Irish Abortion Rights Campaign co-founder Hannah Little told Euronews.
"Our aim with this campaign is to inform Irish abroad of their voting rights and encourage any eligible voters [to] travel home to have their say."
The group estimates that 40,000 Irish people living abroad are eligible to vote in the referendum.
It hopes to emulate the surge of emigrants that travelled home for the marriage equality referendum in May 2015.
Euronews spoke to several people living outside of Ireland who plan to return to vote about why repealing the Eighth Amendment was so important to them and how they will ensure that they make it home.
Sinead O'Rourke: 'I used to be pro-life'
Sinead O'Rourke, 40, has been living in Qatar for a year. The mother of three told Euronews she plans to return home for the vote to ensure "that Ireland, hopefully our home again in the future, is a safe place for my daughters when they reach adulthood."
"The Eighth Amendment affects every single pregnancy in Ireland, whether it's obvious or not, and I want them to have more control over future pregnancies than I had over mine," she said.
But O'Rourke hasn't always felt this way.
"I used to be 'pro-life', until life taught me that abortion is never a concept involving faceless unknown women," she said.
"I think it's a scandal that so many pregnant people in Ireland are forced to travel to the UK and beyond for healthcare they need. Repealing the Eighth allows those people to be treated at home, with the compassion they deserve. I owe it to those people to travel home to vote."
While there is no firm date yet for the referendum, O'Rourke said there was "no question" that she would make it home.
"I will make sure I travel home. Anything else can be rearranged. This will be my first opportunity to vote on this and hopefully my last. I don't intend to miss it."
David Staunton: 'Until women have full body autonomy Ireland will not be equal'
David Staunton, 27, said he was travelling home to vote to repeal the Eighth Amendment "on behalf of all the women and girls in Ireland who do not have a choice about what happens to their bodies."
Staunton, who has been living in Rome since last June and currently works at an Irish bar, said he knew women who had been forced to travel abroad to terminate their pregnancies and understood "it is not an easy decision to make."
In a message to fellow Irish living abroad, Staunton urged them to "try and get home to make this change for all women across the country."
"I trust Irish women that whatever decision they make will be the right one for them and until they have full body autonomy Ireland will not be an equal place," he said.
Ewan Kelly: Coming home is 'the least I can do'
Ewan Kelly, 36, said he was inspired to return to Ireland by the thousands of people who did the same for the marriage equality vote.
"During the week of the equal marriage referendum I watched thousands of Irish citizens rush home from all over the world to vote in favour of equal marriage. It was overwhelming to see so many women and men expend time, energy and money doing their bit to fight for my rights," he said.
"I was living in Dublin then but I'm living in Rome now and coming home to vote is the least I can do to help repeal the Eighth Amendment."
Kelly, who is based in Rome for around nine months, said the current rules on abortion put women's and girls' lives in danger.
"Unless we repeal the Eighth Amendment our country will be responsible for allowing another generation of tragedy after tragedy, each tragedy unthinkable and avoidable," he said. 
Sarah Ni Mhairtin: 'Utmost importance' that a date is set
Sarah Ni Mhairtin moved to Brussels in September last year, on the day of the March for Choice, a large pro-abortion rights rally.
"The first thing I did was look up a Repeal group here. We're a small, but mighty group who will most definitely be returning ensemble to Ireland to vote Yes to repeal the Eight Amendment," she said.
The 25-year-old communications specialist said that "without a shadow of a doubt" she will be "booking flights home the second the referendum date is announced."
However, she said it was of the "utmost importance" that a date is set, so that people like her living abroad could clear their calendars and book the necessary tickets.
"This is a major human rights issue and everyone knows somebody who has been affected by our restrictive laws on abortion. That's why, wherever I am in the world I will be coming home to vote to repeal the Eighth Amendment," she said.