Two more Winter Olympic golds for Norway
Comments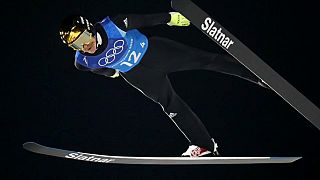 Robert Johansson has nailed a jump of 136 metres in the final round of the large hill team ski jumping to give Norway the gold - and it was also his third medal of the Pyeongchang Olympics.
Norway has now won three of the four men's team events in the World Cup this season.
And Norway's Havard Lorentzen struck gold in the men's five hundred metres speed skating after edging out South Korea's Cha Min-kyu in a dramatic photo finish.
Norway went into the last round with a 22-point lead and finished with a total of 1,098.5, well clear of defending champion Germany.
In a rare feat in the bobsleigh doubles, both Canada and Germany ended up sharing the gold.
Canadians Justin Kripps and Alexander Kopacz posted a combined time of three minutes 16.86 seconds - as did German pair Francesco Friedrich and Thorsten Margis.
It's the first time the Olympic title has been shared in 20 years.