Brazil's military takes charge of Rio as gang violence spirals upwards
Comments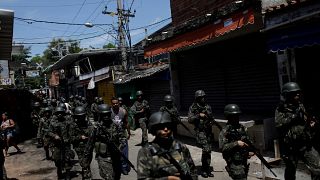 Brazilian President Michel Temer has signed a decree giving the country's military full control of security in Rio de Janeiro in response to spiraling drug gang violence.
The leader also said he planned to create a public ministry to coordinate security operations in the whole country.
"When things go badly here, there is a tendency for things to go badly in other states as well and we don't want this to happen. With firm measures we will mainly protect those that are more vulnerable in Rio de Janeiro," said Temer.
In a country where many recall the brutal military dictatorship that ended in 1985, the move has divided public opinion.
"We have to see this (military intervention) with the utmost care because it is a fine line between abuse of power and public disorder. What is important is for liberty and democracy to prevail," said a local resident.
"There isn't much we can contest, in the same way the governor (of Rio de Janeiro) could not contest when the president suggested the military intervention. We have already reached an intolerable level of violence," added another resident.
Even this year's carnival did not escape the violence epidemic. Footage emerged of gangs rampaging through tourism hotspots and mugging revelers.
This did not, however, deter the samba schools from using their floats and costumes from protesting against Temer's regime.