Claims of Russian meddling in US election 'just blather', says Lavrov
Comments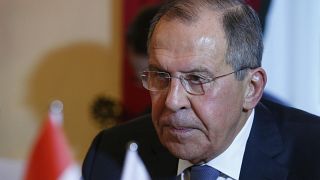 The Russian Foreign Minister Sergei Lavrov has dismissed as "blather" claims that Moscow interfered in the 2016 US presidential election, when questioned about the FBI indictment of several of his compatriots.
The indictment alleges that the Russian conspirators want to promote discord in the United States and undermine public confidence in democracy

US Deputy Attorney General
On Friday, 13 Russians and three Russian companies were charged in Washington DC with meddling in the election to help Donald Trump, Special Counsel Robert Mueller's office said.
Speaking at a major security conference in Germany on Saturday, Lavrov declined to comment on the indictment directly. But, he said, even US Vice-President Mike Pence and others had raised questions about the investigation.
"So until we see the facts, everything else is just blather," he added.
Moscow has repeatedly denied any effort to influence the US election. On Friday the evidence contained in indictment was dismissed as "absurd" by Russian Foreign Ministry spokeswoman Maria Zakharova in a Facebook post.
Moscow's efforts 'backfiring'
A top US security official said on Saturday that Moscow's efforts to meddle in Western elections were backfiring, serving instead to strenghen and unify a broad range of people against Russia.
National Security Adviser H.R. McMaster told the conference the surprise FBI indictments provided "incontrovertible" evidence of Russia's actions.
The indictments and the continuing US investigation could potentially convince Moscow to back off, he said, noting that US officials were also becoming more adept at "tracing the origins of this espionage and subversion".
"Russia may evaluate what it's been doing... because it's just not working," he said.
Facebook and Twitter respond
Facebook Inc will start using postcards sent by US mail later this year to verify the identities and location of people who want to purchase US election-related advertising on its site for specific candidates, a senior executive said on Saturday.
It's the social media firm's latest effort to respond to criticism that social media companies failed to detect and react quickly enough to Russia's use of their platforms to spread divisive political content.
Facebook and Twitter have both vowed to do more to prevent future attacks on their platforms. "Any activity of this kind is intolerable, and we all must do more to prevent it," Twitter said in a statement.
The indictment
The Russian companies charged in the US include the so-called "troll farm" the Internet Research Agency, based in Saint Petersburg. It is accused of having "a strategic goal to sow discord in the US political system, including the 2016 US presidential election".
The 37-page indictment sheet alleges that the Russians' operations "included supporting the presidential campaign of then-candidate Donald J Trump… and disparaging (Democratic opponent Hillary Clinton".
Some of the defendants are said to have used computer systems and stolen real identities to hide their Russian origins.
"Defendants, posing as US persons and creating false US personas, operated social media pages and groups designed to attract US audiences," reads the charge sheet.
It adds that they and co-conspirators created and controlled many Twitter accounts designed to appear as if they were controlled by Americans.
False identities were also used to buy advertisements and stage political rallies, the indictment says. Those involved are said to have begun discussing their plans as early as 2014.
All the defendants are charged with conspiracy to defraud the United States. Three are also accused of other conspiracy to commit wire fraud and bank fraud. Five are charged with aggravated identity theft.
However, the indictment is silent on the question of whether the Trump campaign colluded with the Kremlin.
Donald Trump's campaign and transition teams have been accused of colluding with Russian agents. The president – who has previously denounced Mueller's investigation as a "witch hunt" – denies wrongdoing.
Mueller is conducting a criminal inquiry into the affair. One aide has pleaded guilty to lying to the FBI while two others have been charged with federal crimes.
The indictment broadly echoes the conclusions of US intelligence agencies. In January 2017 an intelligence community assessment found that Russian had meddled in the US election, and that its goals eventually included aiding Trump in his bid to enter the White House.
Donald Trump: 'no collusion!'
Following the indictment, the US president tweeted to insist that "the Trump campaign did nothing wrong - no collusion!". He did acknowledge, however, a Russian "anti-US campaign" which he said had begun in 2014, "long before" he announced his intention to run for the White House.
"This indictment serves as a reminder that people are not always who they appear to be on the internet," Deputy Attorney General Rod Rosenstein said at a news briefing on Friday. "The indictment alleges that the Russian conspirators want to promote discord in the United States and undermine public confidence in democracy. We must not allow them to succeed."
He also said there was no allegation in the charges that the defendants' behaviour had altered the outcome of the election. The section of the indictment which talks of Russians contacting Trump officials describes the latter as "unwitting".
The indictment brought a strong condemnation of the alleged Russian activity from both Republicans and Democrats.
"We have known that Russians meddled in the election, but these indictments detail the extent of the subterfuge. These Russians engaged in a sinister and systematic attack on our political system. It was a conspiracy to subvert the process, and take aim at democracy itself," said House of Representatives Speaker Paul Ryan in a statement.
"For all those who have been asking 'where is the evidence of a crime?' – this is it. This is the criminal conspiracy. This is what President Trump and his allies have repeatedly called a 'hoax' and 'fake news'. Today's indictment shows precisely how the Russians worked to help the Trump campaign, in startling and extensive detail," said Democratic Representative Elijah Cummings.
The indictment includes the following allegations:
From St Petersburg, the Internet Research Agency began plotting to interfere in the US election from 2014, and went on to support the Trump campaign and disparage Clinton

This was part of a wider heavily-funded interference campaign called 'Project Lakhta'

Russians posed as US citizens, hid their origins, stole identities, staged rallies and used social media and email accounts to meddle in the election

Some 'communicated with unwitting individuals associated with the Trump campaign'

As part of a highly organised structure, defendants travelled to the US, gathered intelligence, and set up computer infrastructure that masked its Russian location

Several individuals posted social media content posing as American citizens or organisations, and contacted US activists to gather intelligence

Through fraud and deceit they created hundreds of social media accounts to develop fictitious American 'leaders of public opinion'

They worked in shifts round the clock, targeting posts according to US time zones; specialists covered topics such as foreign policy and the economy

On social media group pages were set up to target issues such as immigration with names such as 'Secured Borders', 'Blacktivist' and 'Army of Jesus' – and appearing to be genuine political parties with names such as 'Tennessee GOP'

One group, 'United Muslims of America', promoted a rally purporting to back Clinton but which was designed to give the impression that she backed Sharia Law

Other Facebook groups and false identities were used to organise rallies push for Trump in Florida, followed by New York and Pennsylvania

The accounts attracted hundreds of thousands of followers and were backed up by sophisticated tracking; poor performers were hauled up – one for failing to attack Hillary Clinton sufficiently

They attacked not just Clinton (Russian-produced hashtags included '#Hillary4Prison') but backed her rival Bernie Sanders - and also attacked Trump's Republican rivals

Space was bought on US computer servers to enable connections from Russia, hiding their location

Fake US identities were set up using data from real US citizens who knew nothing of it

US minority groups were targeted to encourage them not to vote, or to vote for third party candidates rather than Clinton; allegations of Democratic Party voter fraud were promoted

The activities continued after Trump's election – aimed at stirring up feeling both in support of AND against the president-elect before he took office

There was an organised campaign to destroy evidence