Internet Research Agency: Russian 'troll farm' that 'defrauded the US'
Comments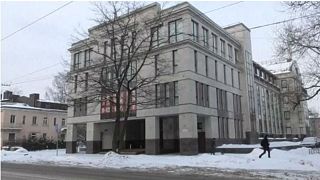 Copyright

REUTERS AND RUSSIAN POOL
Special counsel Robert Mueller indicted 13 Russians with interfering in the US 2016 election on Friday. Twelve of those individuals worked for the Internet Research Agency (IRA).
What is the Internet Research Agency?
The Internet Research Agency is a Russian "troll farm" in St. Petersburg at the heart of the indictment made by Special Counsel Robert Mueller on Friday night.
The indictment described it a "sophisticated, multi-year and well-funded operation" also dubbed as "Project Lakhta," which began as early as May 2014 and continued until after the elections.
The court document said that the purpose of the operation was to "defraud the United States by impairing, obstructing, and defeating the lawful functions of the government through fraud and deceit for the purpose of interfering with the US. political and electoral processes, including the presidential election of 2016."
However, it is important to note that the indictment does not allege collusion between these individuals and the Trump campaign.
How did it operate?
The company employed hundreds of individuals, from creators of fictitious identities to technical experts, who used stolen social security numbers and birth dates of Americans to stage rallies and post content on social media to meddle in the election.
They posted politically-charged content on social media or online ads to communicate with Americans.
Individuals also travelled to the US posing as Americans to gather intelligence and used computer software to hide the company's location in Russia.
The Russians measured the impact of their social media operations by tracking the size of the US audience reached through social posts and other types of engagement, such as likes, comments, and reposts.
What was it like to work for the IRA?
The hundreds of Russian trolls were divided into day shifts and night shifts to be able to post on different US time zones, said the indictment. They also received training on how to post during US holidays. 
Vitaly Bespalov, who used to work for the IRA, told NBC News that the organisation was like a normal IT firm that produced a "merry-go-round of lies". 
Who financed it?
The IRA was financed by Russian businessman Yevgeny Prigozhin who has close ties with Russian President Vladimir Putin. Prigozhin used his company Concord Management and Consulting LLC to fund the operation, said the Justice Department.
By 2016, the troll farm's monthly budget exceeded $1.25 million (€ 1.007 million).