Meet the queen of the coffee capital of South Korea
Comments
By Rima Abdelkader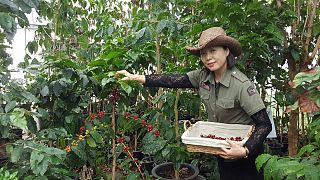 On South Korea's eastern coast of one of the Winter Olympics sites of Gangneung sits a street of about 30 coffee shops overlooking the scenic Anmok Beach that are prepared to host foreign athletes, tourists, visitors and coffee aficionados.
Among the café owners is Choi Geum Jeong. She opened the first modern-day coffee shop along this strip in 2001 and helped shape the area to what has now become known as "Gangneung Coffee Street."
"Gangneung is the coffee capital of Korea," said her worker Carol Song inside "Coffee Cupper" near Anmok Beach.
In the lightly dimmed room of baristas and specialty coffee brands stands Choi. She's making a freshly prepared Ethiopian cup of coffee called Chelba in the back of the counter. It's raspberry-flavored with a floral aroma that has a warm, sweet taste that's comforting for one of the coldest winters to hit the country.
"We have our own way of brewing coffee," said Choi, 49, through a Korean translator.
This Korean mother of two college-aged daughters said she has longed to create a chain of coffee cafes after first setting foot in Gangneung in the late 1990s from Cheonan.
"I love coffee very much and the beach was so beautiful, but there was no such place to sit and drink coffee," she explained.
Before the emergence of coffee shops in this area, there were a few vending machines that sold coffee in the 1980s and the 1990s. It quickly spread to about 50 more.
"A lot of them disappeared. Now there are a few of them," said Yi Jongduck, the director of the Gangneung Culture and Arts Foundation, through a Korean translator.
The area attracted young couples because of Anmok beach and coffee was cheap selling at around 100 won.
It wasn't until 2001 that the area received its first modern coffee shop, and that was "Coffee Cupper." It imports coffee beans from over 10 countries, including the United States but mostly from Brazil, Colombia and Guatemala.
"The city of Gangneung has roughly 500 coffee shops now compared to about 20 about 30 years ago," Yi said.
The city had its first coffee festival in 2009, and it's become an annual tradition.
Bohemian Roasters' owner Park I Chu said he started his first coffee shop in Seoul in 1988, but it wasn't until 2002 that he expanded to Gangneung. He has three cafes here and two in Seoul.
"The coffee shop became widely spread. Gangneung became a coffee city. A lot of tourists came to Gangneung for coffee," Choi said.
Choi has set her mind to also grow coffee beans in Korea with the first coffee farm in Gangneung. It has been a difficult endeavor because the climate is too cold, she said, so it's been easier for her to import them.
The weather is a better fit to grow coffee beans in the southern part of the country in Gyeongsang Province where there are roughly 100 coffee farms and on Jeju Island which has about 10, Yi explained.
Choi brought over coffee trees from Jeju Island and started her own coffee farm here. It's still not enough to rely on so she continues to import internationally.
Twenty years ago, Choi set out to not just create a coffee cafe chain but also a museum teaching the history of coffee that's attached to it. She has a total of six cafes in Gangneung, including two coffee cafes and museums, two cafes along the beach and one in Mengshi, China. She's now hoping to expand to Venice, Italy.
Yi said the history of coffee in Korea harkens back to the Korean emperor Gojong when he sought refuge in a Russian embassy in Seoul in 1896 and was given a cup of coffee. When he returned to Gangneung, which was prominent for its tea culture then, he added a coffee salon in his palace.
Before that however, a French merchant sold coffee as medicine in Gangneung in the 1880s and was successful.
Choi said it's not just about the taste for her patrons but also for them to leave off with some knowledge of the history and culture of coffee.
She has even enlisted in the help of her husband, Gilbert, who is an avid collector of historical objects.
Choi said that he started collecting coffee machines from different parts of the world and that helped the idea for a museum to join the coffee café.
"Where it was barren, I was the first one who cultivated the coffee tree, built the coffee museum and built the coffee shop along the beach," she said.
Sitting in front of the entrance of her new café and museum along Coastal Street, Choi greets some visitors.
"In Korea, people call me the coffee queen," she said, laughing.
This time around, Choi is catering to many foreign visitors for the Olympics and she's even added a new, larger location in Gangneung last year in anticipation of it.
"The Olympics is an international game, so people all around the world came to Gangneung, so I want to show the coffee culture to them. I also want to let them know that Korea also has this coffee shop," she said.