Cape Town prepares for 'Day Zero'
Comments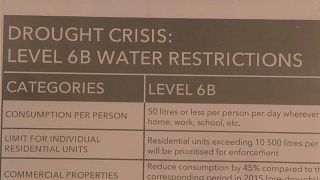 South Africa's most popular tourist city is running out of water. The drought that's plagued the Western Cape Province has dragged on for three years now. Most dams in the region are down to just about 20% capacity. If dam levels continue to decline, the Cape Town's taps will run dry by June.
Euronews reporter Saras Arjunan visited a high school in the city.
"At this high school just one tap in each bathroom is in use, while toilets on the second floor have been shut", she reported.
With 'Day Zero' still on the cards, Bergvliet High School's principal, Stephen Price, has had to implement his own restrictions.
"As you can see some of the fields are a little crusty and brown, we are restricted, while we have borehole water we are restricted to watering only twice a week."
Over a thousand children attend the school. Many are disappointed that all sport had to be suspended until the third term of the year.
Cape Town enjoyed some unexpected rain this week. But just eight milimetres fell, not nearly enough for the region to avoid 'Day Zero'.