Svindal skis into record books with Downhill win in Pyeongyang
Comments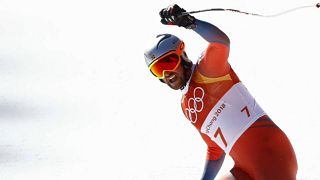 Norway's Aksel Lund Svindal has written himself into the sporting annals with his Downhill gold medal in South Korea.
He is the oldest Olympic skiing gold medallist, the first from Norway to win an Olympic downhill, and the first from anywhere to win both Olympic speed golds and three major downhills. He has also been world champion twice.
As expected America's Mikaela Shiffrin won the Womens' giant slalom, holding off challengers from Norway and Italy.
France triumphed in the men's snowboard cross finals, with Pierre Vaultier retaining the title he won in Sochi four years ago. Australia's Jarryd Hughes and Spain's Regino Hernandez came close, but the Frenchman currently rules this event.
Finally in the figure skating mixed pairs Germany's Aljona Savchenko and Bruno Massot set a free programme world record of 159.31 points, breaking their own record set last year.