Pyeongchang 2018: golden is olden as Norway's Svindal sets record
Comments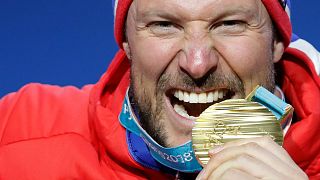 What happened?
Gold is old: Norwegian skier's age milestone
Norway skier Aksel Lund Svindal's has become the oldest man to win an Alpine Olympic gold.
The 35-year-old triumphed in the Olympic downhill on Thursday.
Svindal, the first Norwegian to win the Olympic downhill, won a silver medal at the Vancouver Games eight years ago.
His happy demeanor means his popularity stretches well beyond his native Norway, where he enjoys celebrity status.
Not so cool: Jamaica's bobsleigh coach quits amid row
Sandra Kiriasis has quit as coach of Jamaican women's bobsleigh team - putting its appearance at the Winter Olympics under threat.
Jamaica's bobsleigh federation says Kiriasis was a "destructive force" on the team, an accusation the 43-year-old rejects.
Kiriasis says she left because she had been demoted to being the team's track analyst.
The BBC reports this could put in jeopardy the team's appearance in South Korea because Kiriasis is legally responsible for its sled and has threatened to take it with her.
Shiffrin's slalom success
US skier Mikaela Shiffrin won her first gold medal of the Pyeongchang Olympics in the women's giant slalom on Thursday.
The 22-year-old's consistency over morning and afternoon runs — she was second- and fourth-fastest to give her a combined time of 2m 20.02s — saw her beat Norway's Ragnhild Mowinckel into second place and Italy's Federica Brignone third.
Haga pips Kalla to cross-country gold
Norway's Ragnhild Haga won Olympic gold in the women's cross-country 10km freestyle race on Thursday.
Charlotte Kalla of Sweden took silver, more than 20 seconds adrift, while Marit Bjoergen of Norway and Finn Krista Parmakoski dead-heated for the bronze medal.
Kalla, who won the women's skiathlon on Saturday, began the race as favourite but Haga's blistering pace on the second lap secured her victory.
France's Vaultier retains Olympic title
Frenchman Pierre Vaultier retained his snowboard cross Winter Olympics gold medal title.
He beat Australia's Jarryd Hughes and Spain's Regino Hernandez in a dramatic final on Thursday.
Australia's Alex Pullin collided with US pair Nick Baumgartner and Mick Dierdorff, leaving the path clear for Vaultier.
Hernandez's bronze was Spain's first Winter Olympics medal in 26 years.
North Koreans win hearts in the south
Figure skating duo Ryom Tae Ok and Kim Ju Sik, the only athletes from North Korea to formally qualify for the Games, ended their Olympic adventure in South Korea on Thursday.
They won over the home crowd's hearts even if they fell well short of a medal.
The pair were never likely to finish on the podium at the Pyeongchang Games, but they brought the crowd to life, a symbol of the sporting detente between North and South at this event.
"I was very nervous but once I entered the rink, I saw our North Korean cheering squad and South Korean people putting their hearts together and cheering together," the 25-year-old Kim said in televised comments. "They really cheered for me and it encouraged me a lot."
The figure skating pairs gold medal went to Germany's Aljona Savchenko and Bruno Massot, while Canadian pair Meagan Duhamel and Eric Radford finished what may be their last Olympics with a bronze.
Picture gallery
Hover over the image and click the arrows to view more.
Social media reaction