Giant sinkhole opens in Rome, swallowing seven cars
Comments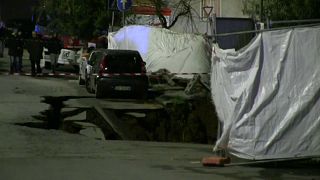 A ten-metre-deep sinkhole opened up on a construction site in Rome's Balduina district Thursday, dragging seven cars inside.
Two teams of firefighters responded to the scene, securing the area.
Around 22 families were evacuated from nearby buildings while experts assessed their stability.
No injuries have been reported.
Building works on the street's water system were ongoing when the sinkhole opened, according to Italian news outlet Repubblica, but the cause of the collapse is, as yet, unconfirmed.
Both the legal representative of the company responsible for the construction site and the legal representative of the land's owners are under scrutiny.
According to legal sources, possible charges include "culpable disaster".
"Whoever is in the wrong will pay," said the Mayor of Rome Virginia Elena Raggi.