Champion shows he has White stuff as personal exploit seals halfpipe gold
Comments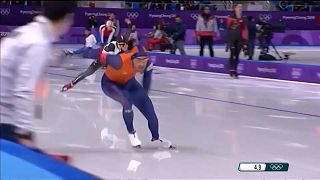 Halfpipe hero
Shaun White put down back-to-back 1440s on Wednesday, (14th February), for the first time in his career on his way to winning a gold medal in the snowboarding halfpipe at the Pyeongchang Winter Olympics.
Shaun White put together an epic final run to claim his third gold medal in Olympic men's halfpipe, slicing through the gray South Korean sky to post a score of 97.75 for the 100th overall gold by the United States in the Winter Games.
The 31-year-old White trailed Japan's Ayumu Hirano going into the last of the three runs in the 12-man final, but put together a daring set that included consecutive 1440-degree spins.
The Flying Tomato threw his board in the air when his winning score flashed, setting off a delirious celebration.
Hirano, who vaulted into the lead during his second run with a score of 95.25, took silver. Australia's Scotty James earned bronze.
White is the first American male to win gold at three separate Winter Olympics. Speedskater Bonnie Blair won gold in the 1988, 1992 and 1994 Games.
Great Germans
German luge queen Natalie Geisenberger claimed her second successive Olympic gold medal in the women's singles on Tuesday to extend her nation's stranglehold over the event to 20 years.
The 30-year-old policewoman roared home to victory, claiming her third Olympic title overall with a flawless pair of runs at Pyeongchang's Olympic Sliding Centre.
The medal returned the smiles to the faces of the German camp, who were crestfallen on Sunday after defending men's champion Felix Loch crashed out of the medal positions with a horror final run.
Geisenberger did most of the hard work in her first three runs to set up a considerable gap on her long-time rival Tatjana Huefner and ended up winning at a canter ahead of silver medal-winning compatriot Dajana Eitberger.
Dominant Dutch
Dutch speed skaters continued their dominance at the Olympic Games on Tuesday, (February 13), with world champion Kjeld Nuis powering to gold in the men's 1,500 metres ahead of compatriot Patrick Roest.
South Korea's Kim Min-seok sparked wild celebrations by taking bronze to open the host nation's speed skating account at the Games.
The Netherlands has won eight of the 12 speed skating medals at the Games so far, including all four golds.
Nuis, the first reigning world champion to win Olympic gold in the distance, made a blistering start and finished in one minute 44.01 seconds despite losing speed on the final lap.
It was the same story for the Netherland's female skaters with Jorien Ter Mors claiming a fifth gold medal in as many speedskating events for the Dutch as she triumphed in the women's 1,000 metres, the 28-year-old producing a blistering time of 1 minute, 13.56 seconds to edge out Japanese favourite Nao Kodaira, who could only claim silver. Compatrot Miho Takagi took the bronze.
Home fans' heartbreak
Italy's Arianna Fontana won the Olympic women's 500 metres race on Tuesday after a photo finish with home favourite Choi Minjeong who was later disqualified.
Fontana, 27, had won four bronze and one silver medal in previous Olympics but never topped the podium.
She finished in 42.569 seconds ahead of Yara van Kerkhof of the Netherlands and Kim Boutin of Canada.
Britain's gold medal hope Elise Christie, world record holder in the 500 metres and world champion at three other distances, slipped over and finished last in the final.
Fans packed into the Gangneung Ice Arena roared and waved South Korean flags as Choi edged close to Fontana in the closing stages, their excitement stoked by their compatriot setting an Olympic record of 42.422 in the heats.
But after lengthy deliberation by the judges Choi was disqualified for interference.
Sochi all over again
Germany's Eric Frenzel defended his nordic combined title as Japan's Akito Watabe again took silver, 4.8 seconds behind. In Sochi the margin had been just 0.06 seconds.
Austria's Lukas Klapfer claimed bronze, 18.1 seconds behind Frenzel.