US woman first-ever human infected with parasitic cattle eye worms
Comments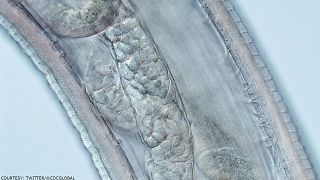 An Oregon native has become the first-ever reported case of Thelazia gulosa (parasitic eye worms), according to a Centers for Disease Control & Prevention report.
As many as 14 of the parasites were pulled from the 26-year-old's left eye over a 20-day period in August 2016, scientists reported Monday.
Usually found in cows and transmitted by flies that feed on moisture on the eyeball, the report said that Abby Beckley probably picked up the parasites after a horse-riding trip in an area where cattle farming occurs.
She experienced itching in her eye that gradually worsened over eight days before pulling one of the 1.27 cm-long translucent worms out.
Beckley's GP and an optometrist then removed five further parasites before she saw an infectious disease specialist.
The creatures couldn't be taken out in one go and had to be extracted as they became visible in her eye Richard Bradbury, lead author of the CDC report, told CBS.
This meant the patient had to remove many of the parasites herself.
"It's just really gross and very psychologically disturbing to see multiple small worms crawling across the surface of your eye," he added.
The worms were only identified as Thelazia gulosa months later after being sent to the CDC.
If left in the eye the parasites can migrate across the surface of the eye and cause corneal scarring and even blindness, the report said.
When removed, like in Beckley's case, the worms cause initial irritation but present no lasting effects.
Other worms from the Thelazia family have been reported in humans before but are rare, with just 160 recorded cases in Europe and Asia and 11 in the US, according to Bradbury.
The vector fly that transfers the worm was introduced to North America from the Palearctic region—an area encompassing all of Europe, Northern Asia and Africa—after World War II and has spread across the continent.