Romanian singers make history by performing 100 metres underground
Comments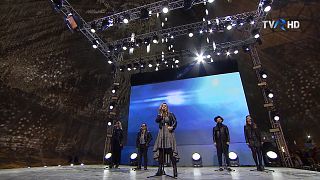 Candidates for Romania's Eurovision 2018 entry have made history by performing 100 metres underground.
Over 20 tonnes of stage equipment were set up in Turda salt mine, Cluj County, for the fourth semi-final on Monday.
The giant structure was used to extract table salt for hundreds of years until it closed in 1932. But 60 years later it was reopened to the public, and it now attracts hundreds of thousands of visitors per year.
Twelve singers competed for three spots in the Romanian final, to be held in Bucharest on February 25.
Musician Tiri, who managed to secure his place in the competition, said of the Salida Turda: "I have heard it's big, but it's more than huge.
"The singing here was an honour, I think, because not many people had this opportunity to sing in a salt mine and I have heard it's the most beautiful in Europe, or probably in the world."
Tiri, along with fellow acts Claudia Andas and Feli came top in the semi-final and will compete against each other to represent Romania in the Eurovision song contest.
Coincidentally, all three performers found fame while appearing on the singing contest The Voice of Romania in different years.
Acts from 41 other countries will perform in the international contest, which will be held in Lisbon, Portugal, on May 25.