8 major cities running out of water
Comments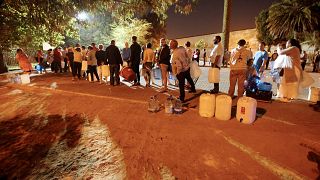 -
Despite rejoicing at recent rainfall, Cape Town is the first major city in the modern era to face the threat of running completely out of drinking water.
The drought-hit South African city is expecting 'Day Zero' – when taps will be switched off in homes and residents will have to go to collection points for rationed water – to arrive on 11 May.
Experts have long been warning about water scarcity. The United Nations World Water Development Report warned that the global demand for fresh water would exceed supply by 40% in 2030.
A 2014 study of the world's 500 largest cities has also estimated that one in four are experiencing a strain on water supplies.
Due to a combination of climate change, human action and population growth, water shortages are predicted to become increasingly common in major cities as well as rural nations.
Here are eight other major cities across the world at risk of running out of water.
Mexico City
Mexico City's 21 million residents already experience limited access to drinking water. Many only have running water for part of the day, while one in five get just a few hours from their taps a week.
At more than 2,000 metres above sea level, the city's aging water system struggles to meet demands and loses more than 980 litres a second due to leaks.
Jakarta
An estimated 40% of the coastal city now lies below sea level as residents suck up groundwater from below the surface. The city has limited the amount of water that can be extracted from wells in an attempt to stop subsidence.
Sao Paulo
Brazil's financial capital went through a similar crisis to Cape Town in 2015 when its main reservoir fell below 4% capacity. At the height of the crisis, emergency water trucks were looted and the taps in many homes were cut to just a few hours twice a week.
In January 2017 the main water reserves were below 15% - putting the city's water supply once again at risk.
Beijing
Poor air quality isn't the only environmental issue Beijing residents have to deal with.
The city's second-largest reservoir has remained closed since 1997 due to pollution. In 2014, the Beijing's 20 million inhabitants had only 145 cubic metres of fresh water per person (less than 1,000 per person is classified as water scarcity by the World Bank).
China is home to nearly 20% of the world's population but has only 7% of the world's fresh water.
Cairo
97% of Egypt's water comes from the River Nile, but it is increasingly becoming contaminated with untreated agricultural and residential waste.
The UN estimates critical water shortages in Egypt by 2025.
Bangalore
The south Indian city's water and sewer systems have struggled to keep up since with a population boom and the rise of new property developments since the Bangalore's rise as a technological hub.
The city loses more than half its drinking water due to its antiquated plumbing system. Like China, India also struggles with water pollution.
Tokyo
The Japanese capital's rainfall is concentrated during four months of the year – making it hard to collect water.
One dry rainfall season means risk of droughts for the 30 million population. Tokyo's water system largely depends on surface water (rivers, lakes and melted snow).
London
London is by far the most surprising city facing water shortages. While the UK is known for getting lots of rain, its capital actually has a lower annual rainfall than Paris and New York and draws 80% of its water from rivers.
With a rapidly growing population and an aging plumbing system, water companies say Londoners face a one in five probability of queuing at standpipes for their water for days or weeks during summer in the coming 25 years.
The Great London Authority says the city's water supply is close to capacity and is likely to have problems by 2025 and "serious shortages" by 2040 if alternative sources aren't found.