Party praises Schulz for refusing government role in coalition deal
Comments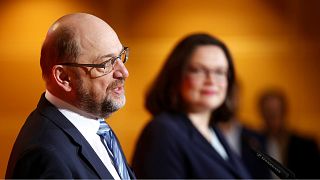 Martin Schulz' decision to forgo the post of foreign minister in an attempt to keep party members onside has been praised by SPD parliamentary group leader Andrea Nahles.
Narles described the decision as remarkable and humane, saying it deserved recognition and respect.
"He (Martin Schulz) negotiated very intensely, and on the European section(of the coalition agreement) in particular, which really represents a change of policy for Europe, that's really thanks to him. And that was a great achievement," she said.
Nahles emphasised that it had been a tough personal decision for Schulz, who announced this week he was stepping down as leader of the SPD.
"I can only hope that, with this decision by Martin Schulz,everything now focuses on the content that we negotiated. Because that is what the membership decision should be about," she added.
The former European Parliament president stepped back from taking a government role in the hope it would help shore up support for the SPD's 'grand coalition' with Angela Merkel's conservatives.
With Schulz at the helm, the SPD suffered its worst election defeat since 1949 in September.
But as the country's second biggest party, the centre-left SPD struck a coalition deal with the Christian Democratic Union (CDU) on Wednesday after weeks of talks. The decision will soon be put to a vote for party members.
Nahles, a former labour minister, has been praised in the German press for her role in drumming up support among SPD members for the political partnership.