Soros donates to anti-Brexit group
Comments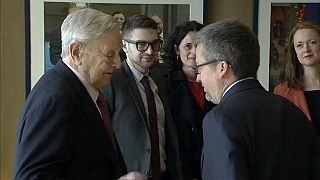 UK Prime Minister Theresa May says there will not be a second referendum on Britain's membership of the European Union.  She insists Britain will leave the EU on March 19, 2019.
Her statement came after billionaire George Soros donated nearly half a million pounds to a campaign group which is seeking to halt Brexit.
The investor is one of three figures linked to the group 'Best for Britain' who plan to launch a nationwide advertising campaign this month.
Britain voted to leave the EU in a referendum in June 2016 after a successful campaign by Brexiteers including Nigel Farage the then leader of right-wing populist party UKIP.
UKIP MEP Ray Finch says Soros has no place in British politics.
"Obviously Mr Soros is no friend of Britain. He once made one and a half million betting against the pound and the remainers have been complaining about all this alleged foreign interference in the referendum," he says. "Mr Soros has put money into alleged parliamentary groups, you know this is actual real interference and we all know about it. Mr Soros and the rest of the globalist 0.1 percent elite should butt out of British politics."
But the remainers are not ready to give up yet. For the first time, various anti-Brexit organisations have joined together under the 'Grassroots Coordination Group'.
It plans to stop Britain following a one-way path to a hard Brexit.