SPD-CDU "grand coalition" for Germany on hold
Comments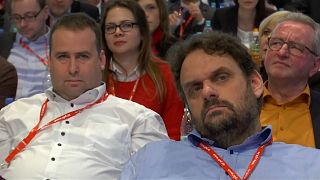 Talks to form a new German "Grand coalition" have continued throughout the night but there is still no word of a final agreement.
Angela Merkel's conservative CDU and the centre-left SPD are wrangling over Labour reforms and healthcare.
However, even if a deal is reached it is not certain the SPD's rank and file will accept it when, according to party rules, it is put to a vote.
Over the last few days the SPD has suddenly gained more than 24,000 new members. Opponents to a coalition have been campaigning hard under the slogan: "Join, and say no".
The result of an SPD vote will be known in three or four weeks.