Olympic athletes change tracks for Pyeongyang
Comments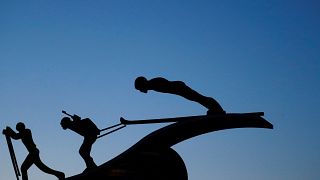 When the Winter Olympics open this week, one athlete sure to break records is cross-country skiier Pita Taufatofua.
He's set to become the first person from Tonga to participate in both Winter and Summer Games.
Taufatofua represented his Polynesian homeland in taekwondo at the 2016 Rio Olympics.
He became an overnight Internet star as a bare-chested flag-bearer in the opening ceremony.
Now he's headed to Pyeongchang for the 15 kilometre cross-country ski event.
"I thought, wow, that looks terrible and hard and challenging--I have to go and do that," Taufatofua said. "So I decided that I wanted to go and do cross-country skiing-- a challenge for myself and also to inspire other people to do things that are challenging and hard and difficult". 
Samir Azzimani
Another athlete making a change is 40-year-old Moroccan Samir Azzimani.
After competing as a downhill skiier in the 2010 Vancouver Olympics, he's also off to Pyeongchang for the cross-country event.
After months of training with roller-skis in the Moroccan desert, he managed to spend a few weeks in the Alps this winter.
First competitions for the 2018 Winter Games start on Wednesday (February 7), two days ahead of the outdoor opening ceremony.
Spectators are advised to dress up warm. Pyeongchang is known for its freezing temperatures and driving winds. These games are predicted to be the coldest on record.