Iran says nearly half of Tehran wants to drop mandatory headscarf laws
Comments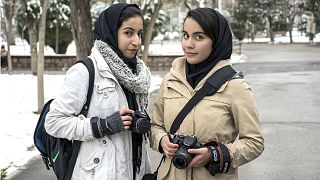 Public support for compulsory hijab wearing has dramatically dropped in Iran, according to a government report released Sunday.
The 3-year-old study, called "Hijab: The Pathology of Past Policies, Looking to the Future", compares data from 2006, 2007, 2010 and 2014 and shows a decline in advocacy of rules that restrict women's clothing.
It comes as images of Iranian women taking off their veils in protest at the laws continue to be shared across social media.
As many as 29 women have been arrested for taking part in the movement, local media said Thursday, citing Iranian police.
Under Iran's Islamic law, imposed after the country's 1979 revolution, women must cover their hair with a scarf—a subject the report describes a "one of the most controversial cultural and social issues for women".
In 2006, 34% of Iranians believed that the government should not be allowed to dictate what women wear in public, this rose to 49% in 2014, the report found.
It also showed support for highly-restrictive items of clothing had tumbled.
Participants from Tehran were asked, "What type of cover do you currently want?" and given a choice of eight images ranging from a chador (a garment that reveals only the face) to a skirt with no head covering.
In 2006, the most popular at 30% was a complete hijab, the second-most covering option (Figure 7), whereas in 2014 a modern tunic (roopoosh-roosari or manteau), with a discreet veil and a bit of hair showing was the most popular option at 32% (Figure 6).
Support for the least-covered option (Figure 1) — which shows a woman in a skirt, a somewhat snug short-sleeved blazer, and without a headscarf — only saw a slight rise from 1.3% in 2006 to 1.9% in 2014.
Should women be charged for breaking the rules?
Conducted by the Center for Strategic Studies, part of President Hassan Rouhani's office, the study also asked participants if they thought Iran's government should charge women that broke clothing laws.
Those violating compulsory-hijab rules can currently be publicly reprimanded, fined or arrested.
Roughly half of the population agreed that they should in 2006 — but three years ago that number had fallen to just 39%.
On social media, the report sparked debate, with some users pointing out that the institute that carried out the survey was pro-regime, while others said the questions were leading.
Iran-wide report
The report released Sunday focusses on a sample of 1,167 participants, aged over 18, solely living in Tehran, but was preceded by a survey, released by Iran's Ministry of Culture from data collected in 2014, which took a cross-section of 14,906 people from the whole country.
The result, analysed and published by researcher Mohammad Maljoo, was striking with only 21.7% of people overall saying they agreed with a mandatory-hijab rule.
Maljoo also broke down the participants by gender, with men 21%of men and 22% of women agreeing with enforced veils.