South Korean appeals court frees Samsung heir Lee
Comments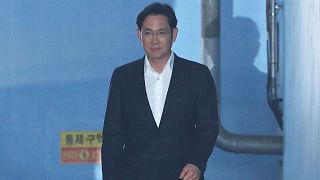 Copyright

Lee Ji-eun/Yonhap via REUTERS
The heir to Samsung group Lee Jae-Yong has been freed from prison by South Korea's appeal court.
Seoul High Court jailed Lee, who's also known as Jay Y. Lee, for two and a half years, reducing the original term by half. It suspended the sentence for charges including bribery and embezzlement, meaning he does not have to serve time.
Lee had been detained since last February.
A lower court in August convicted Lee for bribing Park for help in strengthening his control of Samsung Electronics, the crown jewel of the country's largest conglomerate and one of the world's biggest technology companies,
Prosecutors are expected to appeal the ruling in the Supreme Court.
Last August, a lower court said Samsung's financial support for entities backed by a friend of Park's, Choi Soon-sil, constituted bribery, including 5.2 million euros (7.2 billion won) to sponsor the equestrian career of Choi's daughter.
Back to business
With the end of his year-long detention, which according to local media he adjusted to with physical workouts and reading books, Lee could continue with his existing roles including director of Samsung Electronics.
However he has been found guilty of some lesser charges and is prohibited from travelling outside South Korea without a judge's approval, according to law firm Cho & Partners.
The scandal led to the downfall of South Korea's ex-president Park Guen-hye and exposed the nefarious links between political leaders and big family owned corporations.
Former president Park, who denies wrongdoing, is standing trial accused of bribery, abuse of power and coercion.