Babies evacuated from Syrian hospital as airstrikes intensify
Comments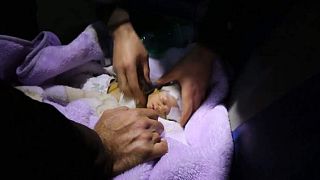 An intense wave of air raids targeted Syria's Idlib province on Sunday, killing several people and injuring dozens more, according to local activists.
A hospital in the rebel-held city of Ma'arat al-Numan was hit, according to witnesses and residents. Footage shared by activists on social media shows emergency crews rushing to evacuate babies and elderly patients.
Activist reports cited the Idlib Health Directorate saying the hospital was left out of commission. No deaths were reported from the strike at the hospital.
Airstrikes have battered the province over the last week, killing 21 people, including six children, according to the UK-based monitor Syrian Observatory for Human Rights.
Russia's defense ministry has defended the airstrikes, saying it is targeting Islamist militants — not civilians.
Russian jets intensified their strikes on rebel-held Idlib over the weekend after militants shot down a Russian fighter jet on Saturday. The pilot was killed soon after in a ground fight after ejecting from his plane, although the details of his death are disputed.
The Russian defence ministry says Roman Filipov killed himself with a grenade while surrounded by militants, and nominated the pilot posthumously for the title Hero of Russia. The Syrian Observatory for Human Rights had said earlier the militants captured the pilot and later killed him.
In December the Syrian army, backed by Iranian militia and Russian air power, launched a major offensive to retake Idlib, the last Syrian province still mainly under opposition control.